I am a blog ambassador for Lakeshore Learning and am compensated for my work. I received product free of charge, but all thoughts and opinions are 100% mine.
What if I told you that the best way to teach children their numbers is by learning through play? They play all day anyway.. but the secret is to be more intentional with what they play with. I am often asked how to teach counting and number recognition to toddlers and preschoolers. These fun number recognition activities for preschoolers will guide you through different ways that you can help teach your child their numbers, counting, and one to one correspondence. Don't forget to grab the coupon at the end of this post.
Numbers, counting and math are a natural part of every day life in each of our homes. Your child will begin to take interest in counting and numbers long before they can even vocalize this to you. How does your two year old know that their brother is getting more pieces of candy than they are? Once this natural interest in counting is born we begin to hear the adorable sounds of singing and counting children, "eight… nine.. ten.. eleventeen…"
But then comes the challenge of number recognition. It's not as easy for a child to remember which number matches its numerical sound.
Preschoolers also love learning through play. Their minds are open and ready to be challenged. It is really important to choose toys and activities that have an educational aspect behind them. When it comes to numbers the more a child see's the number in each of its forms (the written out word, numerical number, tally's, etc.) the quicker they will begin to grasp and remember what each of these numbers are. I have also come to realize that educational toys have a longer life in our home and can hold my children's interest for a longer period of time.
Number Recognition Activities for Preschoolers
1. Daily Reinforcement
The best way to help them remember and recognize numbers is by reinforcing it visually and vocally as much as you can.
You can begin by showing your child the number and saying it out loud. "This is the number 2."
Then move on to, "Can you find the number 2 hiding on this page?"
There are also many opportunities to do this during your normal daily tasks. When you need two spoons, count them aloud instead of in your mind. Your child will be watching and hearing you. Place numbers in their playroom as visual reminders and challenges throughout the day. By doing this you will be constantly reinforcing the numbers in their mind.
2. Number Play Dough Mats With Scented Dough
I love teaching my children in a way that stimulates their different senses. The scented dough from Lakeshore smell amazing. I was pleasantly surprised by the vivid color and wonderful texture each color had. I was also amazed by how much play dough was actually in each tub. I think we have finally found our favorite play dough!
I have a set of my number counting mats in our play dough drawer. I take at least 2 numbers out for my preschooler whenever she is doing a play dough activity. While my daughter rolled her play dough into each number she would guess what the scent was. She didn't realize this at the time but the scented play dough will help hold the memory of the numbers she was working on.
Besides being a great activity for learning her numbers play dough activities are great for strengthening a child's fingers and hands. This is important later on when your child begins to write.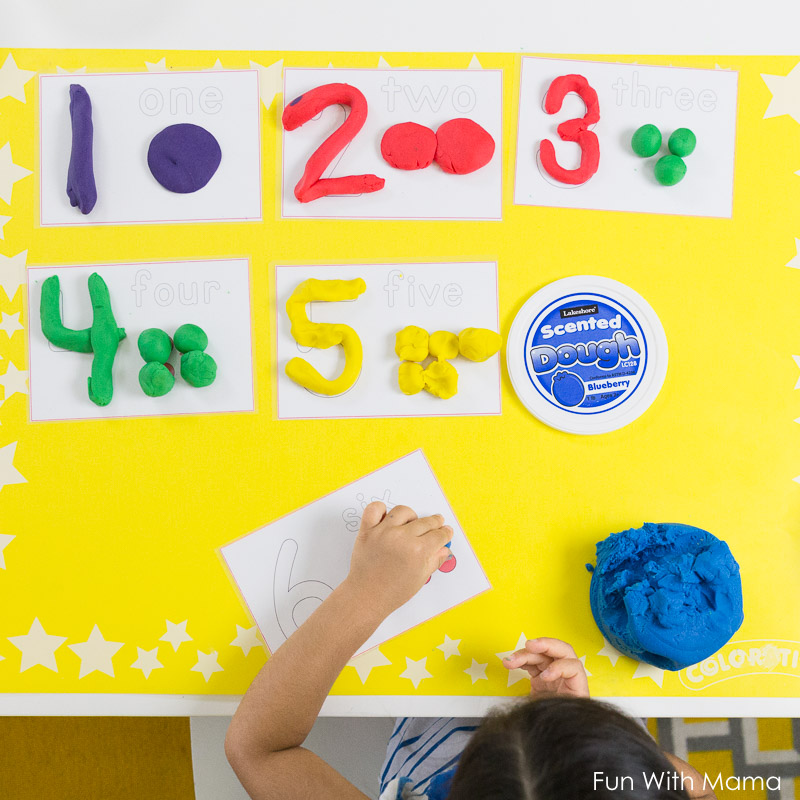 Fun Number recognition activities for preschoolers http://bit.ly/2tCBgko
3. Counting Cars Activity
This was by far our favorite number and counting activity ever. My daughter played with this toy each and everyday in fun different ways. Some days she would use the people and create a family. Other days she would take her numbered car for a drive around the house. I love that Lakeshore provides cars for the numbers 1 – 20! I also love that once my daughter adds the people into the car they don't fall out.
Each car focuses on one particular number. Then each side of the car has the written number word and the numerical version surrounding it.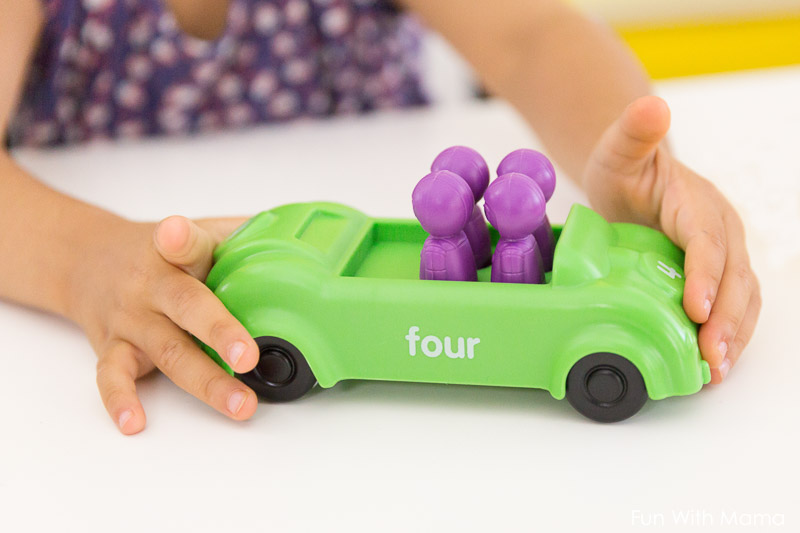 I especially loved that my daughter would physically touch each object while she was counting aloud. As your child gets older and begins to recognize more numbers you can start working on addition and subtraction. Lakeshore included extra people in the box, which I thought was a very thoughtful gesture just in case you lose a few. Lakeshore truly makes their products with real moms and children in mind.
We were also really impressed by the quality of the car as a whole. This isn't just a car for learning and counting. This is a car for playing! It drives beautifully! Plus, there's a car for everyone to join in on the fun.
4. Number Rockets!
Lakeshore's Number Rockets show four different forms of each number.
It includes the:
Numerical number
Number word
Tally's
Stars
Each rocket is divided into three parts. The base contains the numerical form of each number. Younger children can use the visual clue of color to connect the appropriate rockets. My 3 year old was able to count each star and tally and then correctly place them on the rocket.
That was fun…
By doing these type of activities regularly your child will be on their way to loving math and the fun activities related to it.
Do you have any tips for teaching preschoolers how to recognize numbers?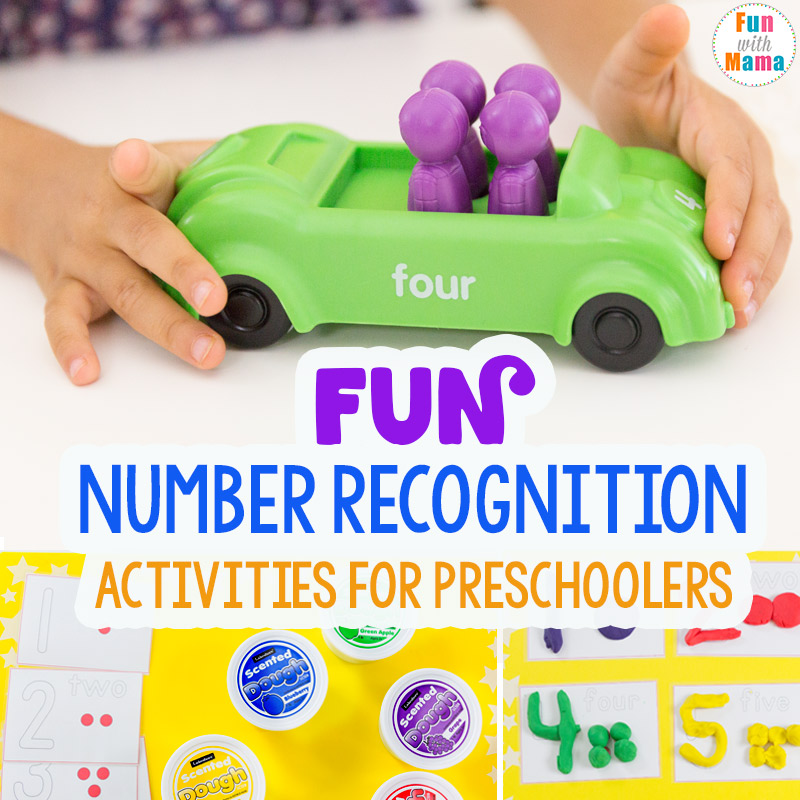 Don't forget to grab the COUPON CODE!
Want to buy some of these toys?
Lakeshore Learning has graciously offered the Fun With Mama community a 20% off coupon code for any one single, nonsale item. Click here to redeem that coupon! To learn more about Lakeshore Learning, find them on Facebook, Instagram, Twitter and Pinterest.
You can find more of my favorite Lakeshore Learning toys here: