November is here and that means Thanksgiving activities. Start by reading the wonderful book "Bear Says Thanks." Then enjoy songs, drawing activities and a simple craft with your preschooler. Includes a free printable.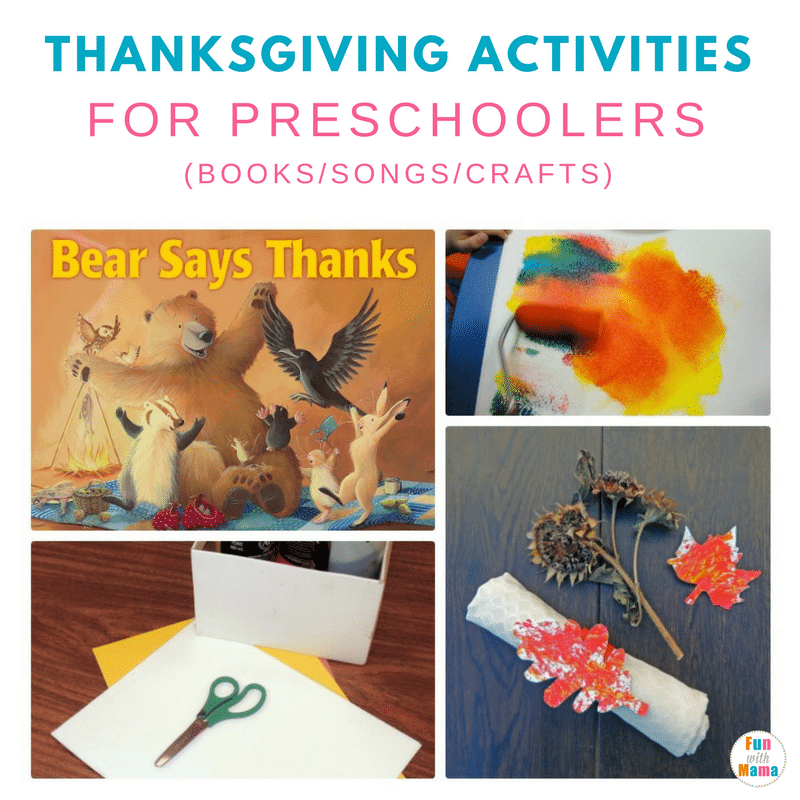 Thanksgiving is one of my favorite holidays. I just love the idea of setting aside a day devoted to gratitude. Most children love getting ready for holidays and Thanksgiving is such a wonderful day to celebrate. I've rounded up some really simple Thanksgiving activities for you to enjoy with your kids as the holiday approaches.
Thanksgiving Activities Your Preschoolers Will Love
First we start with a great book
Bear Says Thanks by Karma Wilson
Bear Says Thanks is a heart-warming celebration of friendship and family starring Karma Wilson's beloved bear character. While the book might not be an official Thanksgiving book it certainly ties into the theme of giving thanks.
Bear is bored and wants to host a dinner for his friends, but his cupboard is bare. One by one, his friends show up with different food to share. To each of them, Bear says "Thanks." Bear is worried that he has nothing to contribute to the feast, but as they gather round to eat his friends assure him that he has the perfect gift to share.
The story is easy for preschoolers to follow and they love this book. Engaging illustrations are paired with a rhyming text to create a wonderful story. Perhaps more importantly, it shows a character showing gratitude in a way that young children can understand. The rhymes in this story are not forced and make reading the book a joy.
I also love the rich language that is used and the way that movement and excitement are conveyed as the animals flap, flitter, hurry and tromp into Bear's home.
Parent Tip: Studies have shown that rhymes are important to child development, language learning, and preparing children to read, so books that incorporate rhymes are very beneficial.
While you are reading
Take your time and enjoy this book. When you turn the page and meet another one of Bear's friends ask
Who is this?
What have they brought to share?
Your children will quickly pick up on the repetitive phrase, "And the bear says, Thanks! If you pause momentarily after reading the words, "And the bear says …" your children will quickly learn to fill in the blank.
This book is full of opportunities for young readers to engage in creative movement as they enjoy the story. From Bear's boredom to the movement of each animal, the book can be used to encourage the children to move.
After the story
Share a snack and enjoy some informal conversation: Ask questions like
What were Bear and his friends glad about in our story?
What things are you glad for?
When did Bear say thanks?
When do you say thanks?
What did bear and his friends share?
What can we share?
Some More Thanksgiving Books to Enjoy
Some songs to Sing
The children's entertainer Raffi has a lovely song called Thanks A Lot. You download it from iTunes or hear it on YouTube.
It is really easy song to pick up. Older siblings might enjoy creating new verses
Thanksgiving Time is Here
(tune: Farmer in the dell)
Thanksgiving time is here
Let's give a great big cheer
For food and friends and family
Thanksgiving time is here.
If You're Thankful And You Know It (tune: If You're Happy And You Know It)
If you're thankful and you know it clap your hands
If you're thankful and you know it clap your hands
If you're thankful and you know it
Then your face will surely show it
If you're thankful and you know it clap your hands!
Extra verses
Stomp Your Feet
Turn Around
Jump up and down
A Simple Craft – Napkin Ring Holders
This is a fun project to do. Kids can pick out their favorite colors, will enjoy the magic of mixing, and practice scissor skills. As a bonus this craft is easy enough for little ones to handle, but has enough variety that older siblings will enjoy making them as well.
Recall that bear and his friends all had different things to share when they gathered for the feast. Invite your children to make special napkin rings to share with friends and family when they all gather round to share a meal on Thanksgiving Day.
Materials
Glue dots or hot glue
Cardboard tubes cut into rings
something to paint with (see below for suggestions)
Instructions
Invite children to cover the cardstock with paint in fall colors. You could use
While you are waiting for the paint to dry you can also paint your cardboard rings if you wish.
Trace leaf shapes on the back of your painted cardstock. You could
Draw your own leaves
Trace around a real leaf
Trace around a leaf template
Cut out
Use hot glue or glue dots to attach the leaves to the napkin rings.
That's it! Aren't they simple? Invite your kids to help you make a set to share with your family!
Now It's Your Turn
What does your family like to do for Thanksgiving? Do you have any family traditions or special Thanksgiving activities? Share in the comments below.
Want to remember this post for later? Pin the image below!