These lovely printable summer kids activities are the perfect toddler and preschool activities to explore a summer fun theme. This beach theme activity pack is also a great vocabulary builder and includes early math skills, encourages the growth of fine motor skills and more! It is aimed at preschool and kindergarten aged children. It may help keep them occupied on long car trips, airplane rides or rainy days.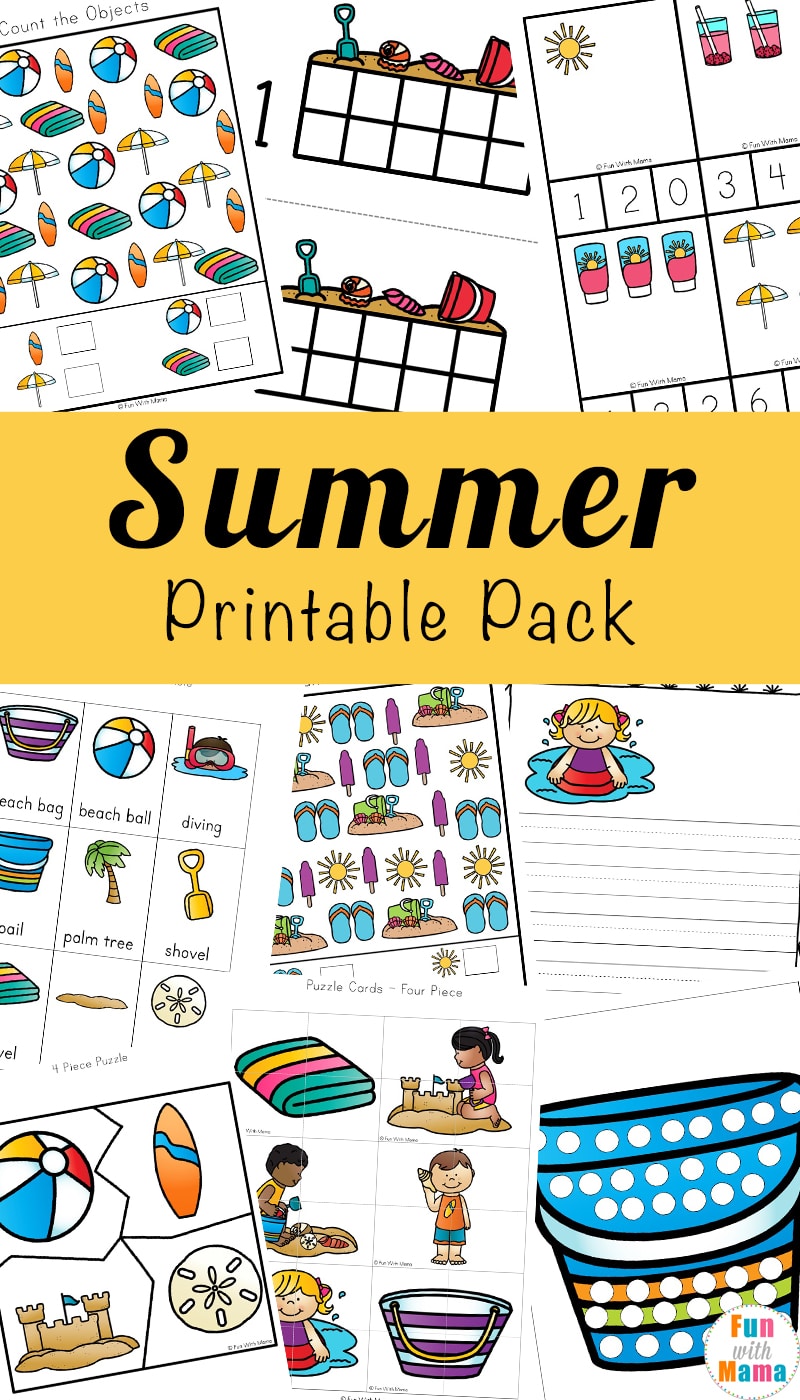 Summer Kids Activities
Do you want to prevent summer brain drain? Then keep your kids active with 30+ Summer Fun Outdoor Activities For Kids and some fun learning activities below. Summer is an easy time for kids gadget addiction… (Check out these 11 Ways To Prevent YouTube Kids + Screen Addiction!) Prepare some activities in advance so that the kids are not only physically active, but mentally active too.
This Summer Printable Pack contains a variety of math and literacy activities for every day learning, like number and letter recognition, colors, counting, patterns, prewriting and scissors skills and much more.
Don't forget to add the Ocean Sensory Bin to these activities.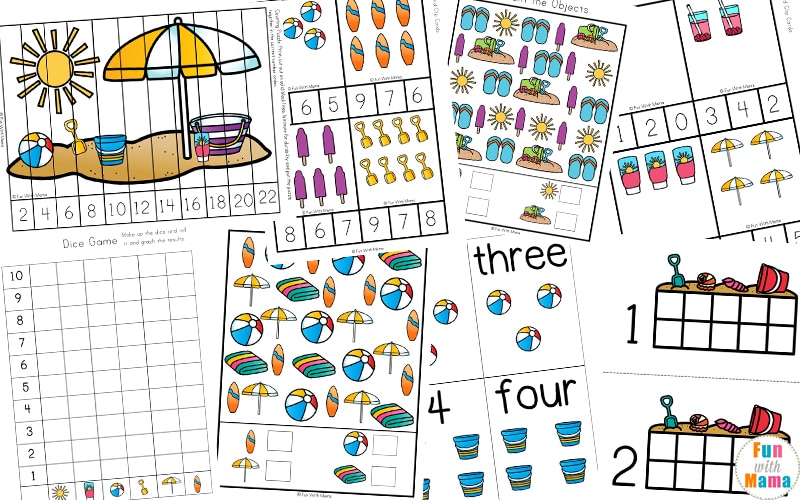 Materials Required:
Please note that affiliate links are used in this post.
Here are some items that pair well with these activities. You will use each of these items over and over during all my printable preschool activity packs.
This Summer Printable pack contains over 90 pages and includes many activities.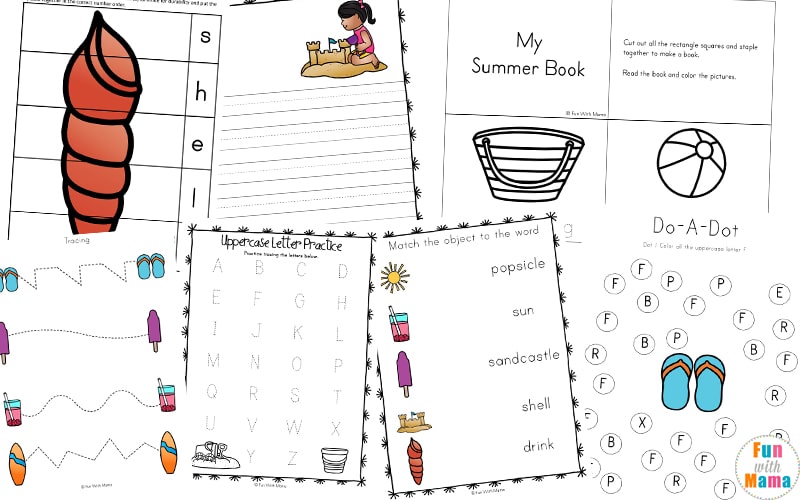 Some of the activities included in this massive Summer Printable Pack are:
Fingerprint activity
Montessori 3 Part Cards
Size Sequencing Cards
Number Puzzles
Word Building Puzzle
Number Cards
I Spy Fun
Puzzles
Line Tracing Page
Count and Clip Cards
Cutting Practice page
See and Stamp pages
Trace the letters
Story / Creative Writing Pages
Color by Number / Letter Pages
Also included are some fun Summer puppets which are easy to create, just print out, laminate and paste a paddle pop stick to the back. Kids will love to create their own scenes or stories with these fun puppets.
As always, there are a variety of math and literacy activities that help children with counting, skip counting, graphing, size sequencing and more.
At the end of the pack is a fun Summer bingo activity as well as some Summer Ten Frame mats which are loads of fun.
Download the summer fun activities for kids
Get the fun summer activities for kids below: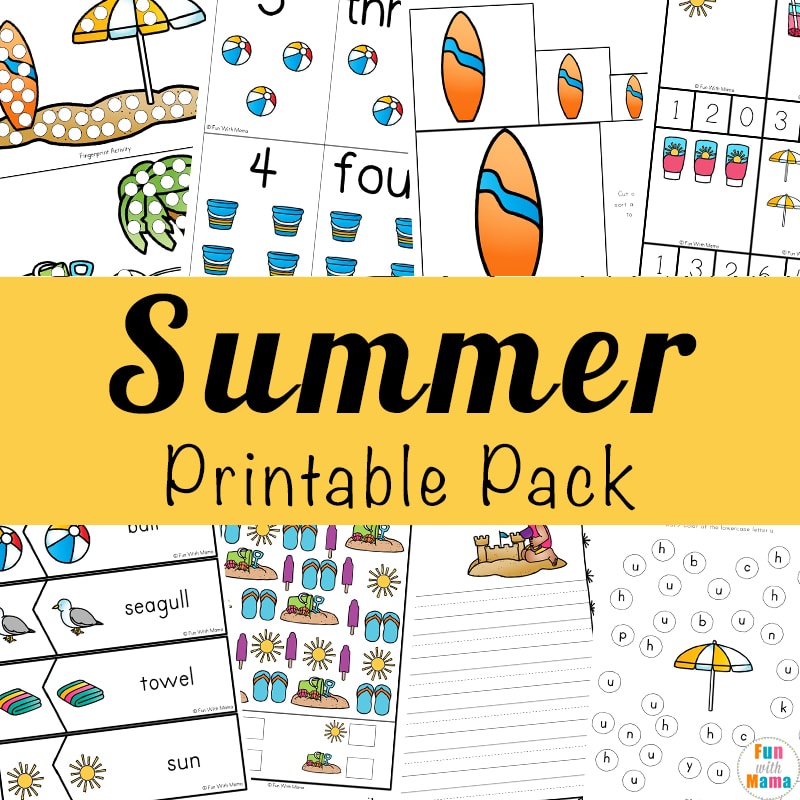 More Summer activities for kids