Learn how to make customized DIY crayon name letters for gifts, parties, and just for fun! If you're looking for Fun Crayons Art and a great way to reuse old crayons (or new!) ones as well, the kids are certain to love this unique and fun crayon art project!
Make certain to check out this Melted Crayon Art – Painting Kids Craft as well! You can never have too many fun and creative activities for the kids.
Easy DIY Crayon Letter Names – Fun Crayons Art
Have you ever seen those unique crayon shapes that some smaller or expensive shops make? I love the look of DIY crayon letters and crayon names, but sometimes the price is a bit shocking once you go to check out.
After making these, I understand the cost, because they are somewhat time-intensive to make, but they are so much fun and are pleasing for kids of all ages. And I definitely mean all ages. My teen daughter was just as into the letters as my younger kids, although she did try to spell teen slang phrases.
My husband also thought the letters were impressive, so no need to stop at kids – you could even make a crayon letter set for someone to keep in their office! This fun crayons art activity is really quite versatile!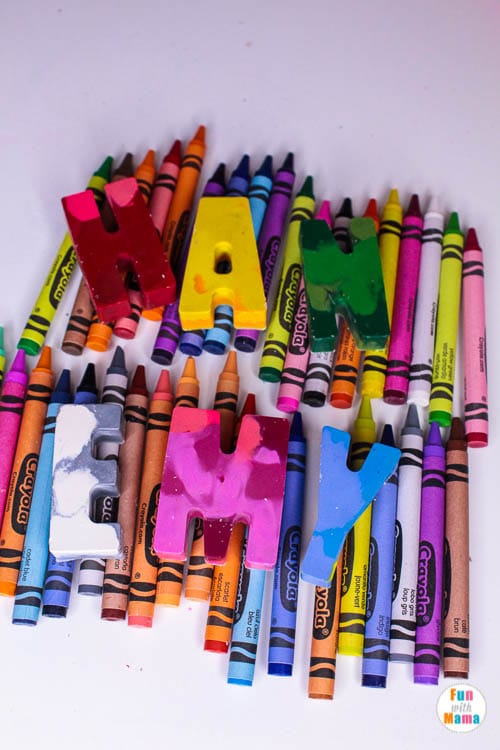 Easy DIY Crayon Letter Names
Making the DIY crayon names isn't difficult, but it will take an afternoon or more, particularly if you have repeat letters to make. You can speed up the process by purchasing more than one mold, or by getting some volunteers to help unwrap and break up the crayon pieces. (this is a great job for the kids to do!)
Supplies for DIY Crayon Names
Crayons – This is a great way to use your old crayons. There is no need to buy new ones.
Cookie sheet
Vegetable peeler
How to Make This Fun Crayons Art
First, turn on the oven. We heated our oven to 300 degrees Fahrenheit.
Next, break your crayon pieces into little chunks and put them into the letters you want to create. No need to do the whole alphabet if there aren't any X names in your family or class.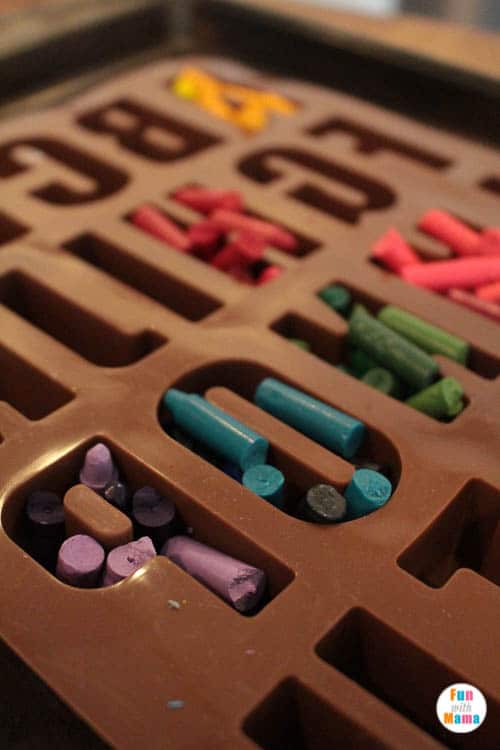 I thought the crayons turned out the prettiest when I used several shades of the same color inside the letter. In some letters, we even mixed regular crayons with glitter crayons for some extra sparkle.
You'll want to slightly over-fill the letter molds with the crayon pieces as they cook down quite a bit when they melt. We used about 5-6 crayons per letter for our mold.
Once the letters are ready, put the mold on a cookie sheet and pop it into the oven.
It took about 15 minutes for our crayons to completely melt.
Next, allow the crayons to dry for at least 2-3 hours.
Once the crayons are hard, pop them out of the molds carefully.
Use a vegetable peeler to remove the edge line from the bottom of each letter.
Wrap the names up together in a fun package to give away, or create a whole set for kids to practice making words!
My kids played with the letters for about 30 minutes trying to see how many words they could make from the letters that we had made, which made it fun beyond just having a name written in crayon!
You can wrap these names up in plastic or in a cute tin for end-of-the-year school gifts, holiday gifts, or birthday gifts!
Fun Ways To Use This Melted Crayons Art
As I mentioned above, you can easily use this as a great way to work on their alphabet skills as well as their spelling skills, too. And they'll be shocked to find out that they can actually use the crayons to color as well!
Be creative and let them explore and have fun.
More Alphabet Activities