The kids will have so much fun with this Arctic Animal Bingo Kids Game! Not only will they be trying to win and yell "Bingo" but they'll also get to see what type of animal live in cold weather areas as well. This is one family-friendly Bingo game that everyone can love and enjoy!
Make certain to check out our Polar Animal Activities that would be a perfect accompaniment to this fun Bingo kids game!
Arctic Animal Bingo Kids Game
Any type of animal activity is so much fun! We love to use this Kids Bingo Game as a fun activity to have less screen time and to get everyone involved and bonding together, too.
The great part about this free printable bingo game is that it's created so that all different ages can be. The pictures are great for kids that haven't quite learned to read yet and the sight words on the cards are great for the association as well. This is perfect for gathering everyone around the table and having a super fun family game night.
We actually play a lot of Bingo kids games in our house and we love having so many options to use. I also love that when you play Bingo, it helps to build their confidence, listening skills, and simple sight words as well.
You're going to love being able to download this free Bingo Kids game. It's fast, simple, and your family can literally be playing the game together in just a few short moments of time!
Don't forget to check out these other polar animal activities as well:
Fun Prize Ideas for these Bingo Kids Game
It's always fun to add in some simple Bingo Prizes that everyone in the family can enjoy. Feel free to use your own ideas but here are some that we've loved having as choices.
Some of my favorite simple BINGO prizes are:
Treats
Pennies or Coins
Trinkets
Extra 15 minutes of screen time
Just be certain that the prizes are appropriate for any age and make certain to ask the kids about some prizes that they'd like to have as well!
How to Play this Arctic Animal Bingo Kids Game
All you really have to do to start is print off the Bingo card below. That's it!
Then just get your bingo dabbers, set some rules, and let the fun begin!
Download your printable free Arctic Animal Bingo Kids Game below
WHERE TO GET THE ARCTIC ANIMAL BINGO GAME
WHERE TO GET THE ARCTIC ANIMAL BINGO GAME
The Bingo Small Groups variety pack includes 4 game boards in color and black and white as well as calling cards for 17 different themed bingo games. The Arctic Animal Bingo game is included in this pack.
If you are looking for a classroom Bingo set with 30 Bingo Boards per theme in color and black and white then check out the Bingo Bundle Classroom Set. It includes over 12 Bingo Sets, including the variety pack, AND includes holidays.
CHECK OUT THE POLAR + ARCTIC ANIMAL ACTIVITY PACK
GET THE POLAR + ARCTIC ANIMAL ACTIVITY PACK HERE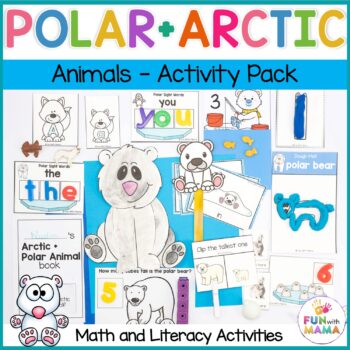 This fun polar animals and arctic animals activity pack is filled with over 200 pages of math and literacy activities. 4 task card activities are also included.
WHERE TO GET THE CLASSROOM BINGO GAME BUNDLE
WHERE TO GET THE CLASSROOM BINGO PACK WITH 14 THEMES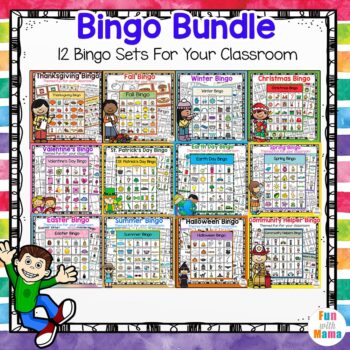 The Classroom Bingo Game Pack includes 14 different themes. Each Bingo Game theme set includes 30 game board pieces in color and black and white. Children will love learning vocabulary while having fun. The black and white game boards are great for getting some extra fine motor practice by having students color in their boards as they play.