Are you looking for some fun and educational CVC Words Worksheets for summer? These summer-themed printables are a great way to keep the kids learning, all summer long.
Learning CVC Words can be fun this summer, especially with this awesome Summer Themed CVC Word Building pack. It is also a great way to introduce CVC words, known as consonant, vowel, consonant, sounds to your children who haven't learned them yet.
And even though it's summer, the kids will still need to be certain to stay fresh and sharp on their reading skills. These simple CVC Words Worksheets can help!
CVC Words Worksheets
In this pack, children will learn to recognize and build a variety of CVC words for all the short vowels; a,e, i,o,u.
And the best part? Once they start to learn about the short vowels, they will be able to start formulating a ton of easy beginner words, too.
Using these CVC Words Worksheets is a great way to build their confidence, too. Because once they realize that they have what it takes to start reading and creating words, there's really no stopping them from there!
Once they get the hang of these CVC Words Worksheets, they also have fun with these CVC Words With Pictures Puzzles as well.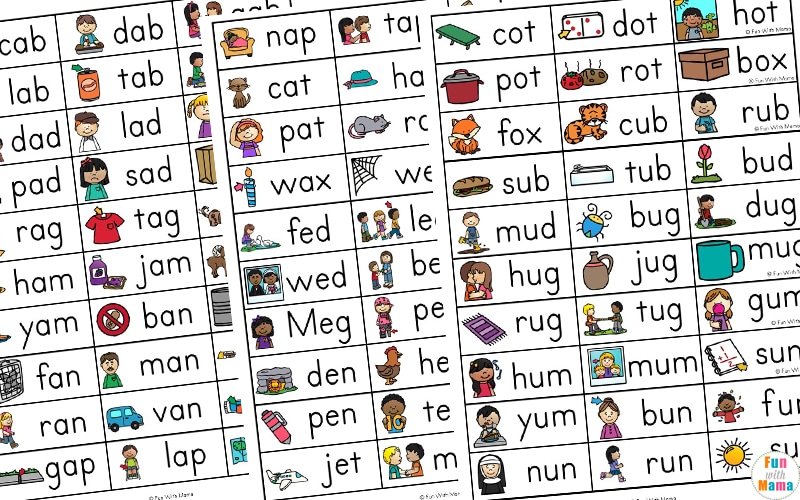 Materials Required for these CVC Words Worksheets:
Please note that affiliate links are used in this post.
Here are some items that pair well with these activities. You will use each of these items over and over during all my printable preschool activity packs.
This Summer Themed CVC Word Building Activity contains over 10 pages of fun and learning.
In this printable pack, children will be introduced to the Short A, E, I, O, and U sounds. They're bright and colorful and are certain to make learning fun.
What words are included in the CVC Words Worksheets?
While this isn't the entire list, some of the words included in the CVC Words Worksheets are cab, dab, tab, lab, dad, lad, pad, sad, rag, tag, ham, jam, yam, ban, fan, man, ran, van, nap, cat, pat, wax, wed, Meg, den, pen, cot, pot, fox, sub, mud, hug, rug, hum, bug, dot, rot, cub, dug, bud, rub, hot, gum, box, mum.
And those are just a few. As you can tell, the short vowels can be used so many ways to create words for them to learn. Don't forget to let them create their own words as well!
How to use these CVC Words Worksheets
To prepare this activity, printout all the pages on white cardstock or paper. Next, cut the page with the two sandcastles on it in half, and laminate. Cut out your choice (or all) of the CVC word cards and laminate as well. Cut out all the buckets and laminate them individually as well.
To use:
Place a CVC word card onto the middle of the sandcastle.
Find the matching letters on the buckets and build the CVC word by placing the buckets under the CVC that has been placed on the sandcastle.
What is included in these CVC Words Worksheets?
There are 157 CVC words for your children to learn and practice with, so there is plenty of fun and learning. This pack also comes in color and black and white for those who wish to save on colored ink.
I also let the children color and decorate the black and white printables as well so they like being creative with their minds and also their hands, too.
WHERE TO GET THE ACTIVITY
GET THE CVC WORD WORKSHEETS HERE
Elevate your summer literacy centers with this Summer CVC Word Building resource. Featuring CVC word cards, CVC picture cards and individual letter cards, this pack allows students to practice building and reading CVC words in a fun, summer themed context.
Like these CVC Words Worksheets? Here are some others to consider, too: