Being a kid can be so tough when you have all these unfamiliar emotions running through you. It's hard for adults to manage our emotions sometimes, so we can hardly blame kids when they have trouble with it too! This book of children's books about emotions can help you talk to your kids about all the various emotions that they feel and how to control them. Exploring books with a central theme of emotions is a great way to teach feelings. These 20 books are wonderful toddler and preschool books about feelings for kids.
20 Books About Feelings For Kids
Pair these books with the emotions and feelings for kids activity pack.
Board Books

The Feelings Book
was written and illustrated by Todd Parr. Each page of this simple board book addresses an emotion with a simple sentence and boldly colorful illustrations. The feelings are sometimes silly and sometimes serious. This is a great book for talking to kids about all the different feelings we may have, and how we should share them with others.

Calm-Down Time
was written by Elizabeth Verdick and illustrated by Marieka Heinlen. This simple board book explores emotions that kids may face, and shares some simple coping techniques that they can use at any age. This is a great introduction to coping strategies for young children.

Duck & Goose, How Are You Feeling?
was written and illustrated by Tad Hills. The popular characters are back in this colorful board book that explores feelings. Each page identifies an emotion with one large word, while the illustrations shows the adorable characters portraying that emotion.

Grumpy Bird
was written and illustrated by Jeremy Tankard. In this vividly illustrated story, a bird struggles with his grumpy mood while walking past his friends. But he soon learns that his friends can find a way to help him defeat his grumpiness.

Happy Hippo, Angry Duck: A Book of Moods
was written and illustrated by Sandra Boynton. This fun rhyming board book utilizes Boynton's signature illustration style and fun animal characters to explore different emotions.

How Do You Feel?
was written and illustrated by Anthony Browne. Explore familiar emotions with little ones with this simple board book. Kids will love the adorable little monkey in the illustrations, and the emotions portrayed on each page are easy for young kids to recognize.
Picture Books

In My Heart: A Book of Feelings
was written by Jo Witek and illustrated by Christine Roussey. This beautiful book uses a unique heart cutout to discuss all the different feelings that you may feel in your heart. The author uses descriptive text to explore different scenarios that kids may face, as well as the physical feelings that can sometimes accompany large emotions.

I Can Handle It
was written by Laurie Wright and illustrated by Ana Santos. Big emotions can be hard to deal with, but this cute book reminds kids that they can handle it. Each page talks about difficult situations that kids may face, and offers suggestions to help them handle the big emotions that come from them.
Jilly's Terrible Temper Tantrums: And How She Outgrew Them
was written by Martha Heineman Pieper, Ph.D. and illustrated by Jo Gershman. Jilly the kangaroo learns that seeking help for her big emotions is a much better solution than throwing a big tempter tantrum. The illustrations that accompany the text are beautiful, and make Jilly's tantrums very recognizable for parents and children.

The Way I Feel
was written and illustrated by Janan Cain. This fun rhyming story addresses a variety of emotions, both good and bad, and teaches kids how to handle them. The illustrations are vibrant and colorful, and each emotion word is dressed up in fun fonts that personify the emotion.

Glad Monster, Sad Monster
was written by Ed Emberley and Anne Miranda. Explore emotions with this vibrantly colored book full of fun monster masks that kids can try on. The black background makes the colorful monsters pop off the page.

The Color Monster: A Pop-Up Book of Feelings
was written by Anna Llenas. The colorful monster in this book has mixed up all of his feelings. The little girl character in the book helps him to sort out his feelings by color, and explains some of the characteristics of each emotion. The large cutouts in this book make it a fun book for kids to explore.

When Sophie Gets Angry-Really, Really Angry…
was written by Molly Bang. As Sophie gets angrier and angrier, she can't control herself anymore. The vibrant illustrations in this book do a great job of showing Sophie's emotions growing stronger and stronger, while the text shares how Sophie calms herself down again.

Today I Feel Silly: And Other Moods That Make My Day
was written by Jamie Lee Curtis and illustrated by Laura Cornell. Each emotion gets it's own rhyming poem in this brightly illustrated story. The main character shares how each emotion makes her feel, and how every emotion is okay.

Everyone
was written and illustrated by Christopher Silas Neal. This beautiful story introduces kids to the idea that everyone shares feelings. With illustrations done in blues and neutral tones, this book has a great message that you are not alone in your feelings.

Tough Guys Have Feelings Too
was written and illustrated by Keith Negley. Even the toughest people have feelings! This boldly illustrated book introduces kids to the idea that absolutely everyone deals with emotions, no matter how tough they may be.

Grumpy Pants
was written and illustrated by Claire Messer. The adorable penguin character in this story is having a grumpy day and just can't seem to get over it. Kids will love the cute penguin, and may recognize how hard it can be to shake a bad day.

Today I'm a Monster
was written by Trevor Judson and Agnes Green and illustrated by Viktoriia Mykhalevych. We all have days when we feel angry and make bad choices. This book about a temperamental little monster teaches kids about anger and negative emotions with bright illustrations and a relatable story.

Today I Feel .: An Alphabet of Feelings
was written by Madalena Moniz. This emotional trip through the alphabet introduces kids to a variety of emotions. Each letter represents one emotion, and the detailed illustrations portray the feeling.

Feelings to Share from A to Z
was written by Todd and Peggy Snow and illustrated by Carrie Hartman. Teach kids about their feelings with this alphabet book full of fun rhymes and colorful illustrations. Each letter represents an emotion and is paired with a rhyming stanza and colorful illustration that showcase the feeling.
Words and Your Heart – This book is about your heart and how the words that you use and hear can affect how your heart feels. I love this book! It teaches children the power words have on not only themselves, but others too.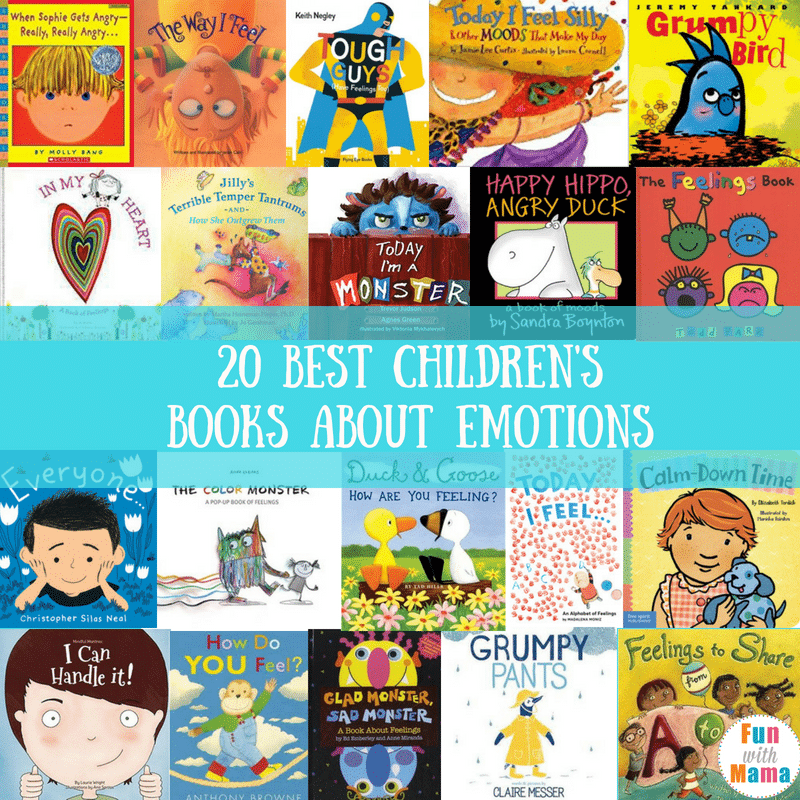 Crafts and activities to pair with these books: