These Halloween activities for toddlers will be a fun way to combine learning and play! Halloween is such a fun time. It is the ultimate day for playing dress up, collecting and eating candy and of course surrounding ourselves with 'scary' things! It can actually be scary for toddlers, so I wanted to find some fun toddler centered activities that are not scary but still help celebrate Halloween. These are some of my favorite Halloween Activities for toddlers that I fell in love with!
Halloween Activities For Toddlers
There are a lot of fun halloween activities for toddlers in the Halloween Activities For Preschoolers activity pack.
Below are some activities from our Halloween Activities Pack #1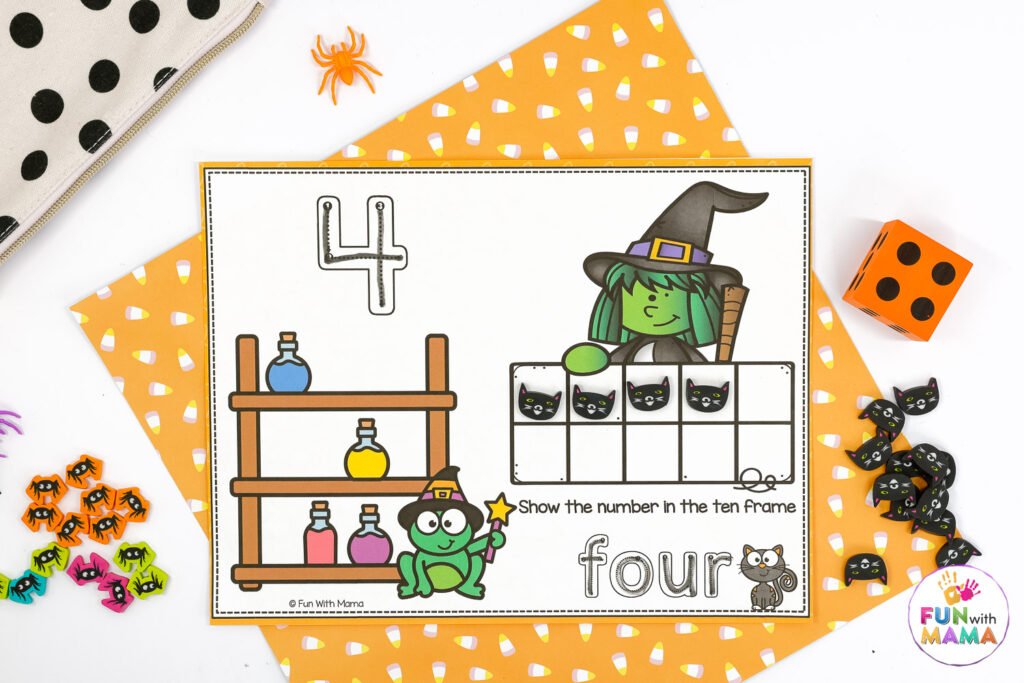 GET THE HALLOWEEN ACTIVITIES PACK 1 HERE
Get your preschoolers excited to learn with this NEW halloween activities pack. Includes fun and engaging math and literacy activities ideal for the spooky season.
Below are some activities from our Halloween Activities Pack #2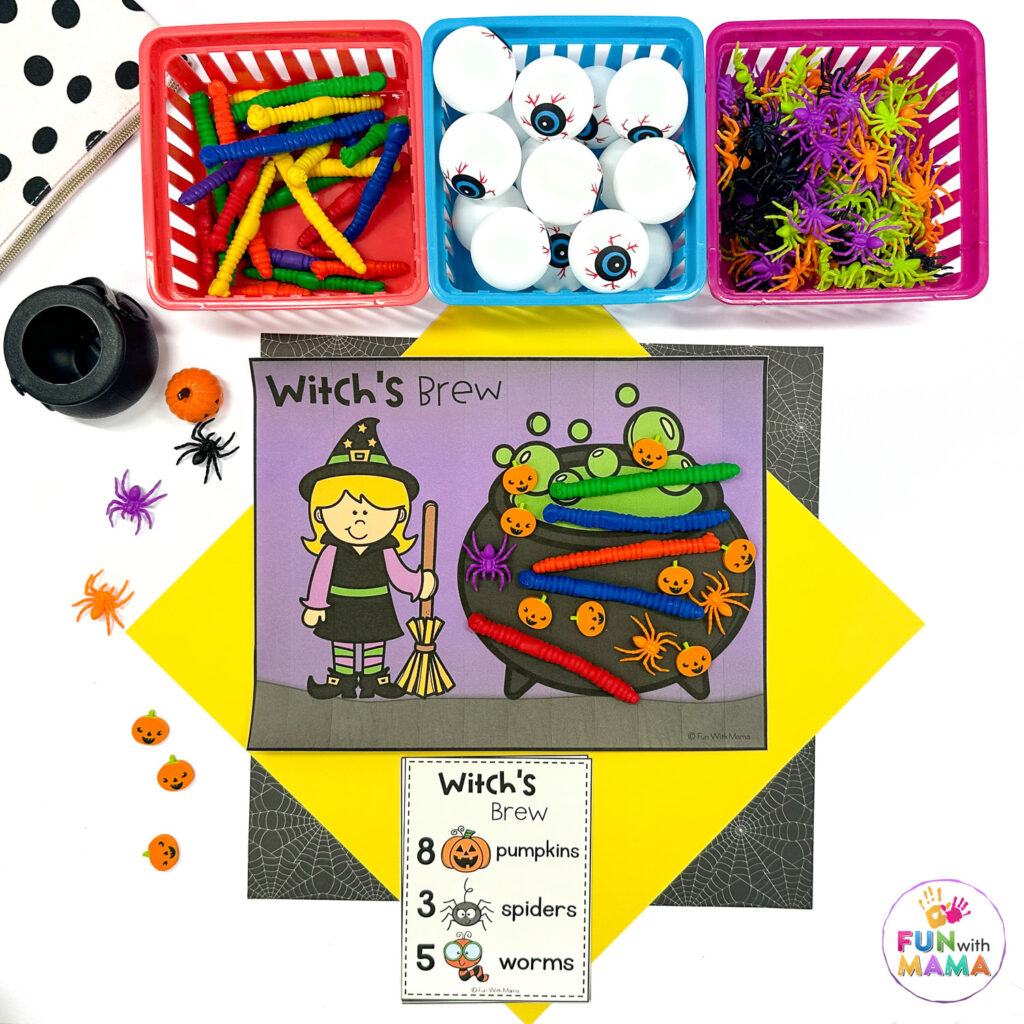 GET THE HALLOWEEN ACTIVITIES PACK 2 HERE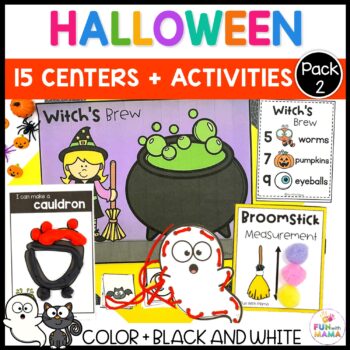 Save time and effort with this second Halloween-themed activity pack. Includes 15 more math and literacy activities that your preschoolers and kindergarteners will LOVE this Halloween season.
More Halloween themed activities:
Bring Halloween to your sensory activities with this DIY Halloween Slime.
Another fantastic sensory activity that's perfect in October are these wonderful noodles!
If you are looking for a family friendly activity that your toddler will also enjoy, try these spooky gingerbread houses!
Color By Number is a fun way to incorporate the simple act of coloring with practicing numbers. Try this Halloween version with your kids!
If art is more your thing, this fun finger paint pumpkin painting activity is beyond perfect for toddlers!
Toddlers most likely will want to carve pumpkins too. Thankfully, these tips can help you help them participate in this Halloween favorite safely.
Printable activities are fun in many moments of the day. These are specific to Halloween and will bring even more excitement for the holiday.
Want a halloween activity for toddlers that mom would love to join in on? then try the Halloween Science potion.
Have them eat a delicious halloween school lunch (even if they aren't in school!)
Grab the Halloween activities bundle. It is jam packed with learning activities (bat life cycle, Halloween activities, pumpkin activities and Halloween Bingo games to play.)
Check out the Hidden ghost painting activity as well as the Halloween Puzzles.
We have a FREE Halloween Bingo game as well as a class pack Halloween Bingo game with 35 game boards.
This FREE Halloween color by number printable is fun too!
Sensory Halloween Activities
Sensory bins are a fantastic activity to help celebrate a holiday or any specific theme. This Halloween Sensory Bin is particularly awesome!
Another fun Halloween Sensory activity for toddlers is this spooky noodles! Fun colored noodles make almost no mess and are super easy to make!
Playdough is a classic sensory activity that most toddlers like! It is easy to make and customize for holidays like Halloween. This Halloween Playdough is especially cool because it is textured!
Keep sensory even easier for you with this Eyeball Sensory Bag. SO easy to make and can keep toddlers entertained, Halloween style, for hours!
Are your kids too young to carve pumpkins? That doesn't mean bringing pumpkins into an activity is not out of the question. Check out this wonderful pumpkin washing activity!!
Halloween Crafts For Toddlers

Making these Paper Plate Pumpkins is super easy and can be so the perfect halloween activity for toddlers!
Toddlers are masters at painting with their fingers, aren't they? This adorable bat silhouette craft is perfect for your finger painting toddler!
Applying tape to paper is a fantastic fine motor activity and great fun for toddlers! Put this hobby to good use and make an adorable taped mummy!
Using various household items in a craft is a fun way to encourage creativity in children, even as young as toddlers. These q-tips make great bones in this fun skeleton craft!
These adorable cotton ball puffy ghosts are a fantastically simple craft for kids. Plus it would make a fun decoration! Halloween activities for toddlers can give you more bang for your time by making them as decorations at the beginning of the month.
Motor Fun Halloween Activities For Toddlers
This fun spider web walk is a great way to get kids moving, get the wiggles out and still have Halloween fun!
Encourage kids to practice their fine motor skills with this wonderful spider search activity. Kids will be so excited for each spider that they collect!
Another fun pincher activity but this time with pumpkins! This is so great and can easily be taken on the go too!
How cool is this sticky spider web game? Kids will love jumping around, tossing 'spiders' into the web to try and get it to stick. Just like in real life!
If you want to include real life pumpkins in your child's play time, this hammering pumpkin is a fantastic idea!
Did you love the list of Halloween activities for toddlers? Then check Out Our Favorite Halloween Books For Kids.
There are so many fun Halloween activities for toddlers. You May Also Like Our Halloween Activities For Families! These are some fun Halloween traditions that just make it all that much more fun!
If you are looking for more Halloween crafts for kids then that post has you covered!