Is your child a lover of furry animals? Then this How to Draw a Sheep tutorial is definitely going to keep your little one entertained!
This simple step-by-step guide will show you how to easily draw a sheep, so it's perfect for teaching your child, or for anyone who wants to draw this cute furry friend.
Learning how to draw a sheep can not only be a fun task for your child, but can also bring out their creativity and help improve their skills. They'll love making the facial features and front legs with these lessons!
How to Draw a Sheep
We have learned How to Draw a Monkey, Spiderweb and Lion, and now it's time to learn how to draw a sheep. Have your pencils and colors ready because we are about to get started!
This step-by-step guide will break down the sheep drawing process. It's a fun way to put a new perspective on art!
Not only will this help their artistic skills, but it's great for a quick tutorial, too. If you want an easy project and drawing lesson with quick steps, this is perfect for beginners. New drawing lessons at home are a fun and easy way to make a lamb sketch.
They'll work on layers, the front and back legs, depth, and even some dark gray shade if they want. This step-by-step tutorial is perfect. The most important thing is that they have fun! This will help them make a cute sheep drawing, and it might help them learn how to make a realistic sheep drawing next.
I've included a free printable at the bottom of this post.
Step One: Sheep's Head
Start off by drawing a U shape for the sheep's head. Try to make the bottom of the U-shape wider. This will help to give your sheep's head some size.
Step Two – Add some hair
Next, we will add some hair to the sheep's head. This is quite a fun part! Draw a cloud-like shape over the head of the sheep. Try to make the scallop pattern wider on the top and sides of the head and more narrow towards the bottom.
This step is sure to give your child experience in drawing different patterns.
Step Three: Add some features
Now it's time to bring the sheep to life!
Let's start by drawing two medium-sized circles for the sheep's eyes. Add another smaller circle in the middle of the eyes to give the sheep some detail.
Next, we will draw a nose. There are many ways you can go about drawing the nose. It could be an upside-down triangular shape (like ours), a circle, or an oval. Give your child the opportunity to decide to help bring out their creativity!
Now we will give our sheep a smiley mouth. This can be done by drawing two wavy lines on the bottom of our sheep's nose. Add a little straight line on the sides of your mouth to give it a happier look.
Oh, our sheep needs some ears too! Let's draw two long ovals on the side of the sheep's face as ears.
Yay! Our sheep seems to be full of life now!
Step Four: Draw the body
The body of a sheep is full of fur, so this step is very similar to step 2. We will be drawing an oval cloud-like shape again, but this time as the body.
Step Five: Draw the legs
Our sheep needs to walk and run so we need to add some legs to our drawing. This can be done by drawing four long rectangular shapes at the bottom of the sheep's body. Round the edges of the rectangle, and don't forget to give your sheep some hooves too.
Step Six: Add a tail
A sheep cannot be complete without having a furry tail! To draw the tail, simply draw half of an oval at the right end of the body. Don't forget to make the tail fluffy, just like the body!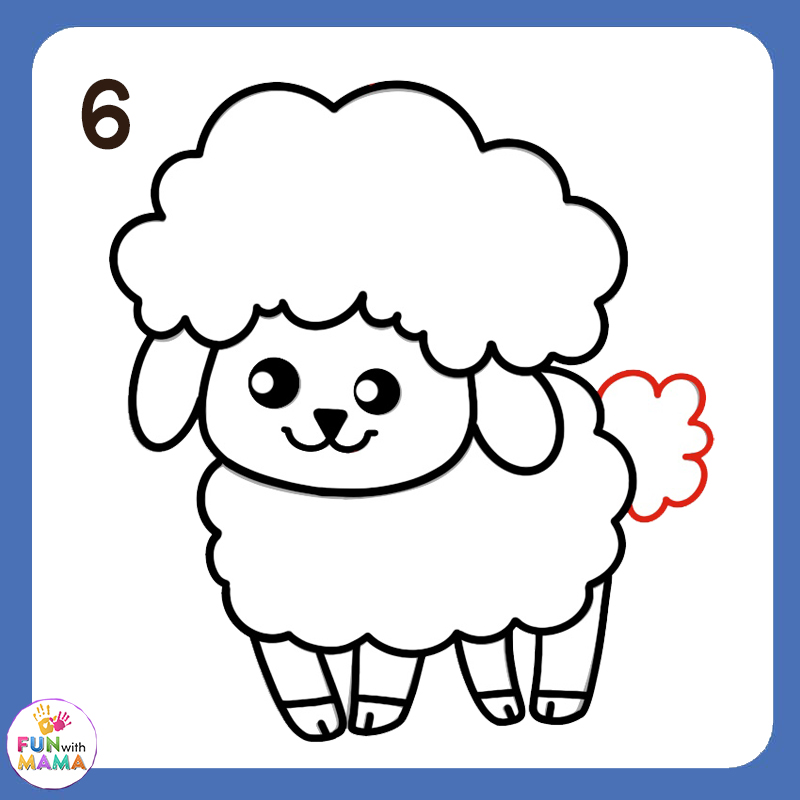 Step Seven: Color in your sheep
We are almost done with our drawing, but how can any drawing be complete without any color?
Guide your child into shading/coloring in the face, ears and legs of the sheep. One thing is for sure – children love coloring so they will definitely be excited to add some color to their new furry friend!
Get the free sheep drawing printable here
WHERE TO GET THE FULL ACTIVITY PACK
GET THE LEARN TO DRAW ACTIVITY PACK HERE
This set of drawing worksheets features of 200 pages of drawing guides in various formats to help your students draw a variety of animals and more. Perfect for centers or as a homework task, these drawing worksheets will keep your students engaged and keen to learn more.
And there you have it! You have learned how to draw a fluffy sheep in just seven easy steps!
If you would like your child to improve on their sheep drawing, let them give their sheep some other sheep friends. Soon, they will have mastered the way of drawing these cute furry animals!
Save this easy drawing tutorial for any time you need a quick and easy drawing activity!