Making slime is my children's favorite activity ever. In this post, learn how to make butter slime with this easy butter slime recipe. And when you add shaving cream + borax to the mix, it becomes even more fun!
How To Make Butter Slime
I've learned that the more you make slime, the easier it gets. It is about feeling your consistency and figuring out whether you need more of something or not. We first began by learning how to make slime without borax. But sometimes Borax as a slime activator holds the slime better together than contact lens solution.
Affiliate links may be used in this post. Please see my disclosure policy for more information.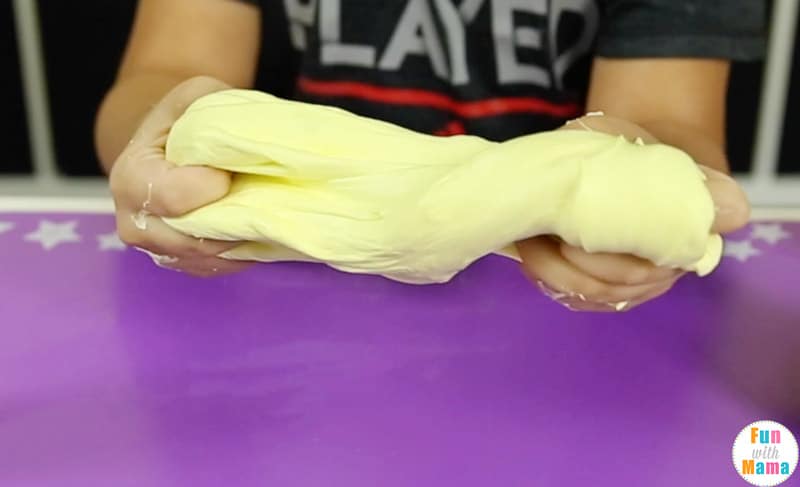 Butter SLIME INGREDIENTS
1 cup of foamy shaving cream
1 cup Elmer's PVA Glue
1 tsp baking soda
Slime activator – this can be Saline Solution (contact lens solution) or 1/2 a tsp of borax mixed in water. Mix in a little at a time. If using borax please note that you should NOT add all the borax mixture in. Just part of it.
How To Make Butter Slime Recipe http://bit.ly/2GDmlOB

Watch my kids make slime in the video above. The video will begin at the Butter slime tutorial but feel free to start at the beginning to check out all three slime recipe's. They show you easy steps! Plus, if you have a child between the ages of 3-13 they can watch it too.
Subscribe to
our New Youtube Kids channel for children
.


How to make slime with Shaving Cream + Borax
Here is our slime in process shot.
Add in 1 cup of glue first then 1 cup of shaving cream.
Add in your drop of yellow food coloring. Then slowly add in your slime activator. If you are using contact lens solution that works too. In this example we used contact solution. Squeeze a little at a time. Mix. Squeeze again. Mix. Keep doing this until you get to a consistency you are happy with. It should be slightly sticky but not so sticky that its completely sticking to your fingers. The video example above is helpful in this regard. Then use your hands. When you mix and knead it with your hands it will begin to take shape much better.
Doesn't that look so squishy and fun to play with!? It is just as fun to make slime as it is to play with slime!
I hope that the butter slime recipe showed you how to make butter slime in just a few minutes using items you likely already had at home.
More Slime Recipe's to try: