This Goldilocks And The Three Bears Printable pack focuses on the story of Goldilocks and the Three Bears. It is filled with fun worksheets, clip cards and activities as well as a mini Goldilocks story book, story sequencing strips and character puppets, which your child can use to retell the story.Once laminated, the back of the story puppets can be stuck onto a paddle pop so that little hands are able to hold them as they re-tell the story in their own words. The activities can be used with preschool, pre k, kindergarten and first graders.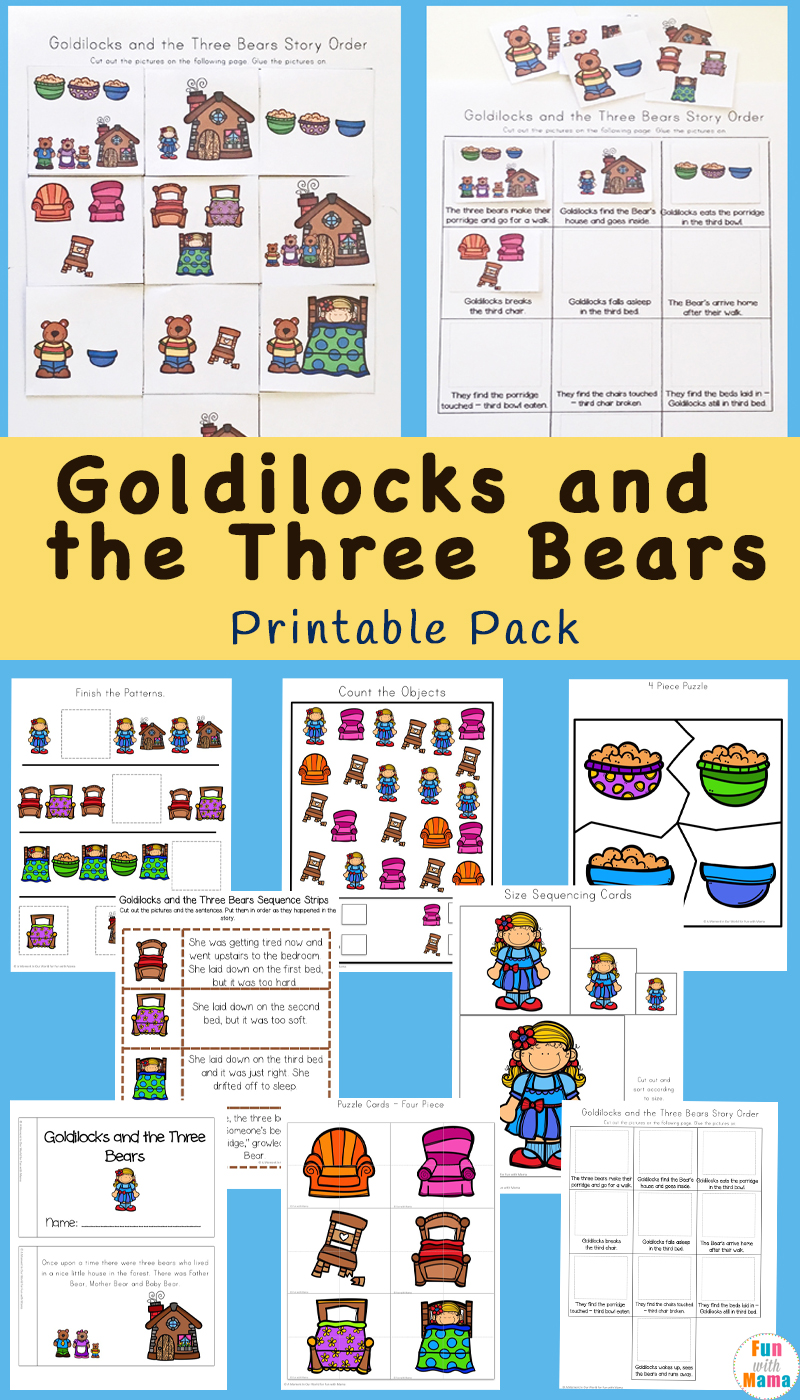 GOLDILOCKS AND THE THREE BEARS PRINTABLE PACK
Materials Required:
Please note that affiliate links are used in this post.
Here are some items that pair well with these activities. My readers can Try Amazon Prime for 30-Day using this Free Trial link.
You can find all of my recommended supplies on the Printable Packs Page. You can also find my favorite preschool supplies here.
This Goldilocks and the Three Bears Printable pack contains over 100 pages and includes a variety of activities.
The story of Goldilocks is a classic folktake that comes in a variety of versions and styles. It is also a great story to discuss the concept of sharing and privacy with your kids. Should Goldilocks have walked into the Bears' house? How would you feel if you were the Bears'? Should she have touched the Bears' things without permission? This printable pack will make sure your children really do get the most out of this fascinating, yet educational story.
This printable pack contains a story book that can be used to help your child read. The short story sequencing strips are great for younger children and can be used the same way as the book. Your child will go through the Goldilocks and the three bears story with pictures to cut and paste into the sequencing story order.
A great way to keep these pieces together is with a binder ring. If you plan on using this in a classroom setting you can laminate the above page and add velcro to the pieces.
There are also a variety of puzzle activities that will help improve both math and literacy skills.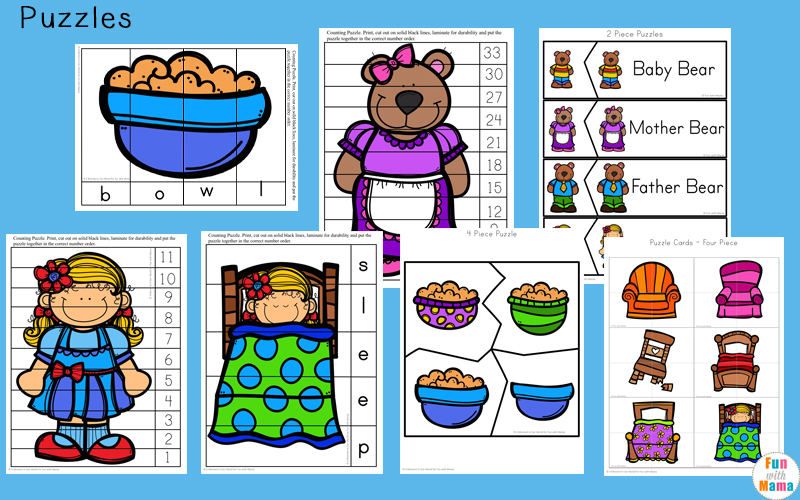 These Goldilocks and the three bears activities for kindergarten can also be used with preschoolers.
Other literacy activities include:
Trace the letters
Story / Creative Writing Pages
Montessori 3 Part Cards
Information cards for bears
Color by Letter
Character Activity
Title Cards
Setting Activity
All about bears pages
Some of the math activities are:
Number Matching Cards
Cut and Paste the Missing Numbers
Count and Clip Cards
Simple Addition Pages
Simple Subtraction Pages
Cutting Practice page
I Spy Fun
Dice game / graphing
Size Sequencing Cards
Colour by Number
This massive printable pack also comes in two versions: One is in color and the other is in black and white for those who have limited ink for their printers.
Download the Goldilocks and the 3 bears activities
Click the pink button below to download this free Goldilocks and the Three Bears printable activity pack.