Looking for a fun, hands and engaging method to practice beginning sounds with your little learners? These Alphabet Wheels Clip Cards are perfect. Beginning sounds are tricky and learners need tons of practice before they become familiar with their beginning sounds. This method of alphabet learning for kids is perfect!
Turning learning activities into fun and engaging activities can help make learning a lot less stressful for learners and motivate them towards learning. These Alphabet Wheels Clip Cards are colorful, cute and most importantly your learners are sure to have a fun time practicing their beginning sounds with this fun printable.
Be sure to check out the rest of my fun alphabet activities for kids, too!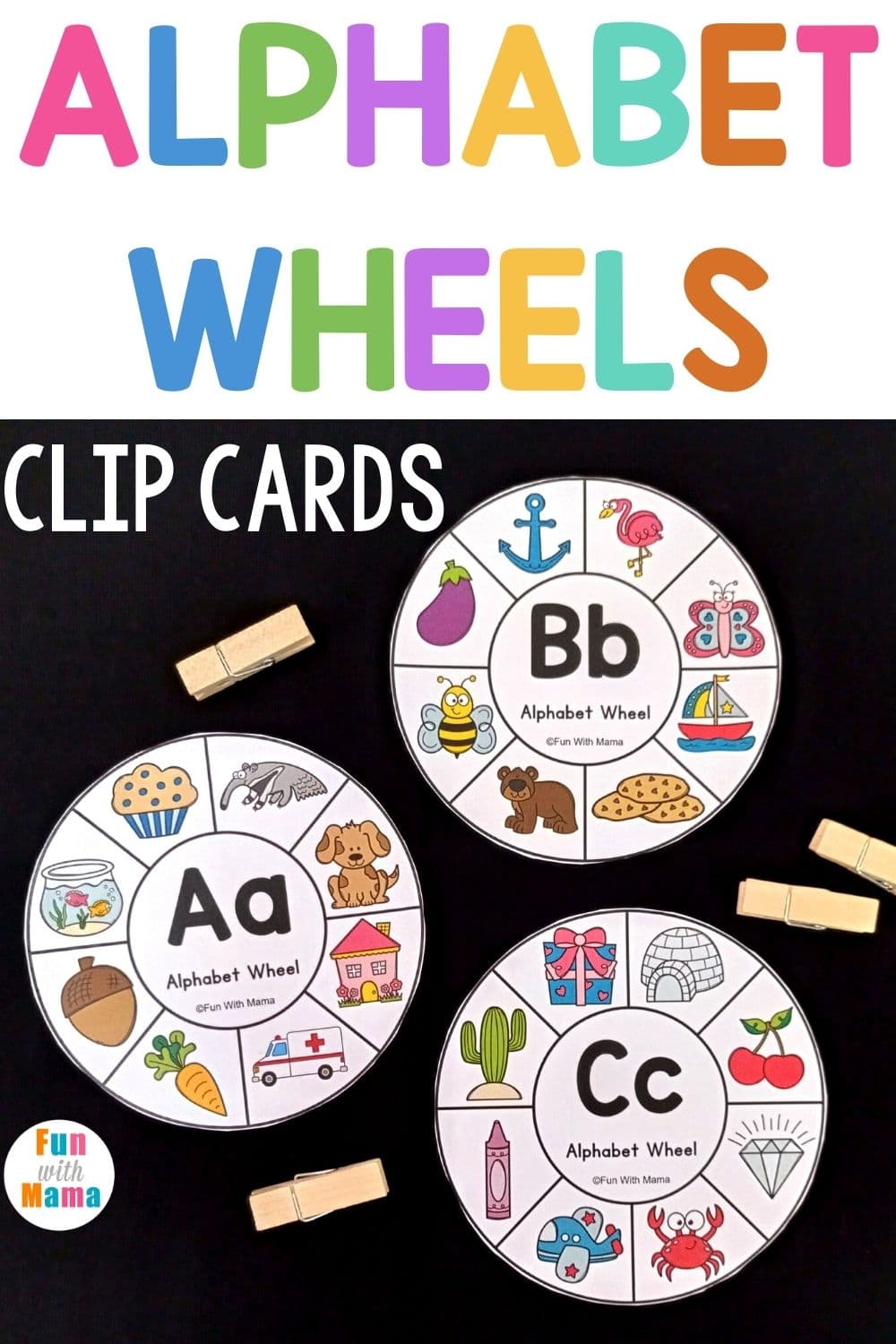 Alphabet Learning for Kids – Beginning Sounds
This free alphabet printable will focus on the 26 alphabet letters and the sounds associated with each letter. Since this activity is intended more towards learners who need more practice on identifying their letter sounds, it would be best suited for learners who are already familiar with their letter sounds. Hence, this printable is geared more towards kindergarteners and first graders.
There are a total of 27 wheels in this printable since the letter X comes in two versions. In one wheel, 'X' is at the beginning while in the other wheel the sound is heard at the end of the words.
Differentiating and identifying beginning sounds in words is a very important skill that learners will need as they embark on their literacy journey.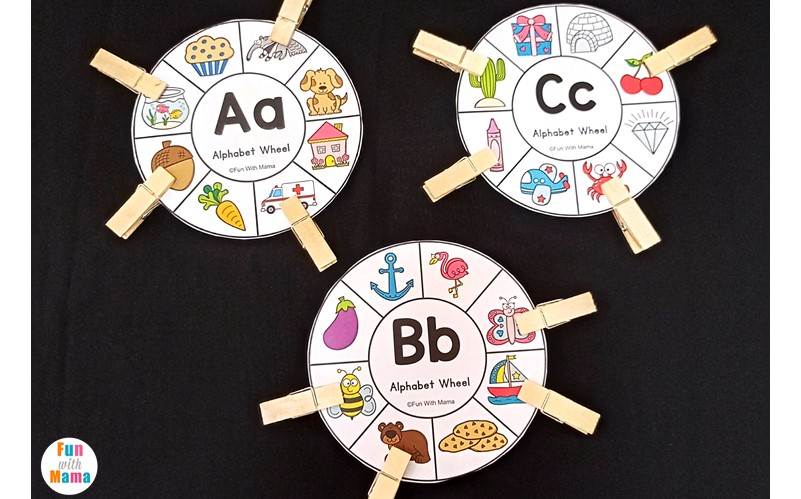 Materials Required – Free Alphabet Clip Cards
*affiliate links may be used in this post
Printer
Laminator
Scissors
Wooden clothespin or circle counters
Alphabet Wheels
These Alphabet Wheels are quite different from the normal clip cards in the sense that each learner has several options that learners will have to select. Learners should be able to identify the beginning sounds of several words in a single wheel. This can be quite tiring and overwhelming for a new learner.
I strongly suggest using these wheels only when learners are relatively familiar with their beginning sounds so that this activity can be used as a further practice to strengthen their beginning sounds.
To Prep for the Alphabet Learning Activity
Download the free alphabet learning printable at the end of this post.
(There are two versions included within the printable. The first version contains one wheel per page, while the other version contains 2 wheels per page.)
Print the pages required.
Since the activity includes using clothespins, I would recommend laminating the pages for durability.
Grab some wooden clothespins and the color wheels and you are all set!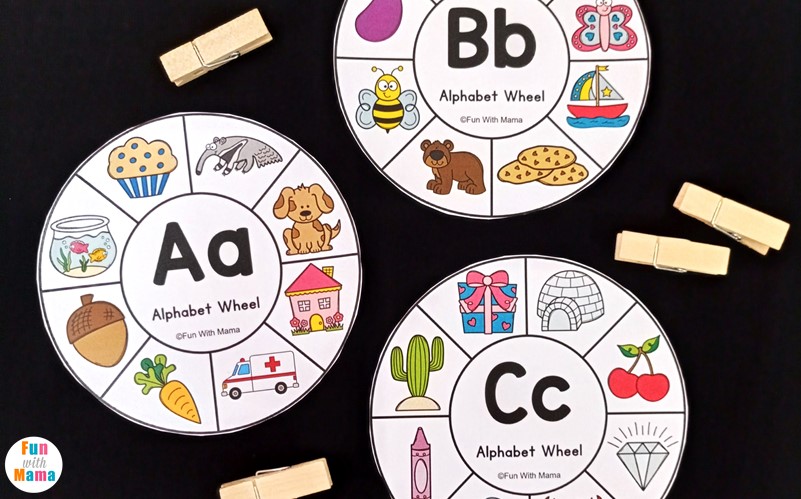 Using the Alphabet Wheels with your Learners
Present the wheels to your learner. Since there are several wheels, choose a couple of letters to work on and present only those wheels.
Each wheel contains the letters in both uppercase and lowercase in the center of the wheel. There are a total of 8 pictures surrounding the center. Learners will first sound out the sound(s) associated with each letter.
They will then sound out the pictures around the wheels and identify the beginning sounds of the pictures. From those, only 4 of the options will match the letter in the middle. Learners will clip the correct sides and leave those that don't match the letter in the center.
For example, for the Letter C clip card. Learners will sound out the words on the wheel. They will then realize that the pictures 'cactus', 'cherry', 'crab' and 'crayon', start with 'Cc', while the others do not. They can then proceed to clip the correct pictures and leave the others out.
In this way, learners will slowly work their way through the wheels. This will provide them with plenty of practice for their beginning sounds which is sure to be very helpful towards their literacy journey.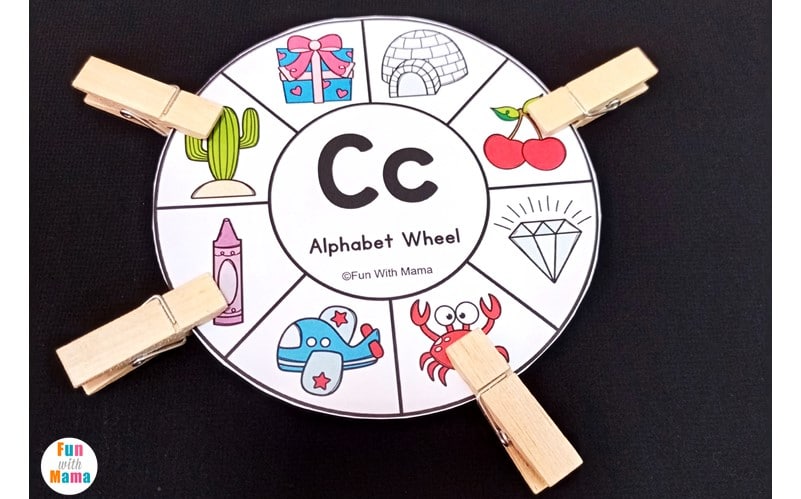 Don't forget to grab the alphabet learning activities for kids' free printable below!
Check out these Alphabet Activities as well:
Alphabet Letter Matching Clip Cards
Magic Letters Activity – Recognizing Letters of the Alphabet
Gingerbread Tracing Letters Printable