Are you joining me in the, "I have so many broken crayons I don't know what to do with them" party? Did you know that you can actually use up your old broken run-down crayons by melting crayons into different shapes? Learn how to melt crayons in the oven and in the microwave too with this Crayon Melting 101 post.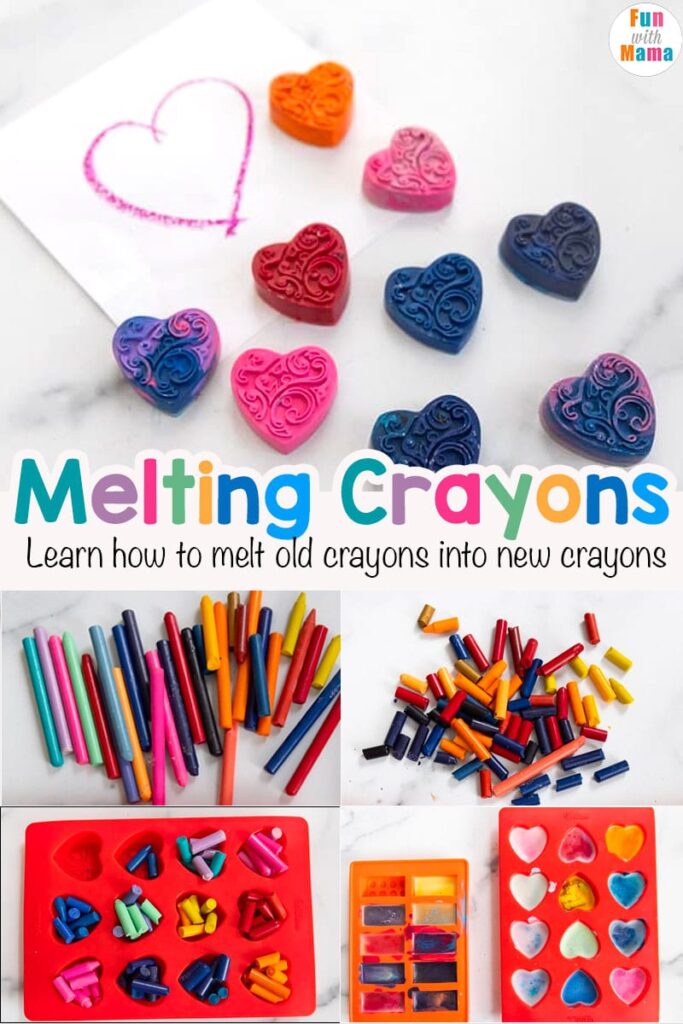 How to melt crayons
Recycling crayons by turning them into a new shape is a great activity to show children. It's easy and the transformation is pretty magical! It's like creating art.
There are multiple ways to melt crayons. You can melt crayons in the oven or microwave. You can use silicone molds, muffin tins or even cookie cutters.
The next time you are wondering what to do with your old used crayons follow my tutorial on how to melt crayons.
Melting Crayons
Every so often, especially at the end of the school year when teachers send home my children's old crayons, we try to come up with new ways to use melt crayons into new crayons.
Melting crayons is a great lesson in teaching children to recycle and repurpose, rather than wasting their old crayons. It's also an art and science activity too.
I'll be honest, I've been guilty a time or two of wanting to just get rid of those old broken crayons. Purchasing a fresh new box with all its colorful and equal-sized glory is so tempting. But then I learned how to melt crayons and it transformed my opinion on those old broken crayons.
Helpful tip: Keep an old crayon packet in your cabinet and whenever you see an old crayon getting worn down throw it into the bag and use it whenever you will be melting crayons.
This activity is great for a rainy day activity; when the kids are done jumping in muddy puddles, of course.
DIY Crayons are an easy craft and my kids love to join in with their crayon theme suggestions. Last time, we created our very own names with crayons using my tutorial on how to make Crayon letters. Now that my kids are older, they actually reference the posts on Fun With Mama for tutorials to try over and over.
Crayon Melting Video
How to melt crayons in the oven
This simple tutorial on baking crayons includes how to melt crayons in silicone molds. This is my preferred method. You could also melt crayons using foil in the oven as we did when we created Melted Crayon Art
Melting crayons into molds is the easiest way to melt crayons. It also keeps your hands off the hot crayon wax until the crayons have been molded into their new shape.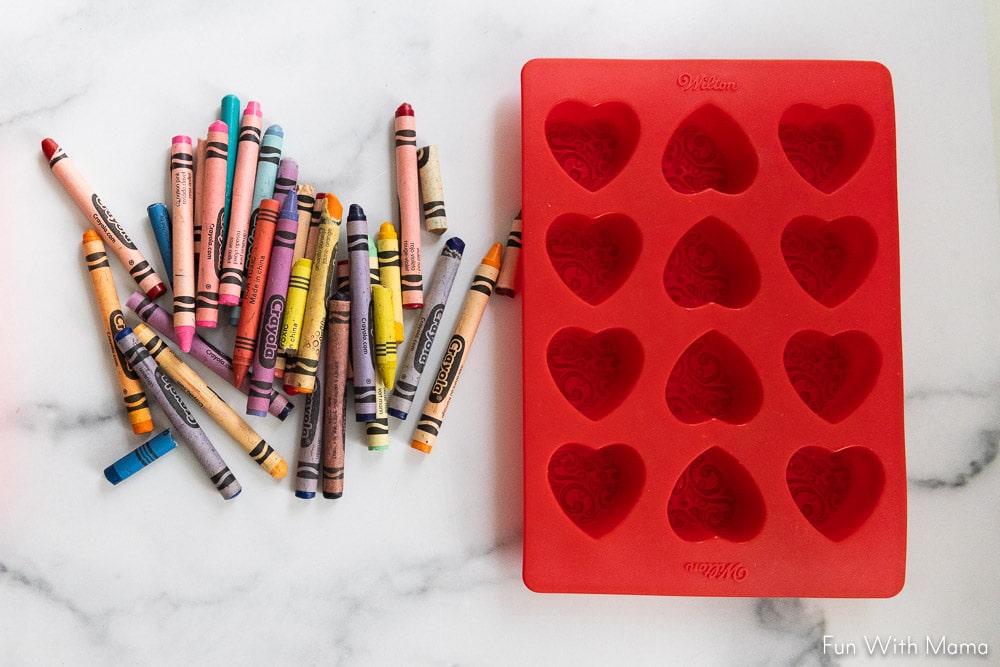 What you need to melt crayons in the oven:
Silicone mold
Oven tray (the silicone mold will be very flexible and it would be easy to get burned if you pick up the mold on its own with the hot crayons inside.
Crayons
Oven
Step 1: Preheat your oven to 250-300 degrees F.
Step 2: Remove crayon wrappings from each crayon.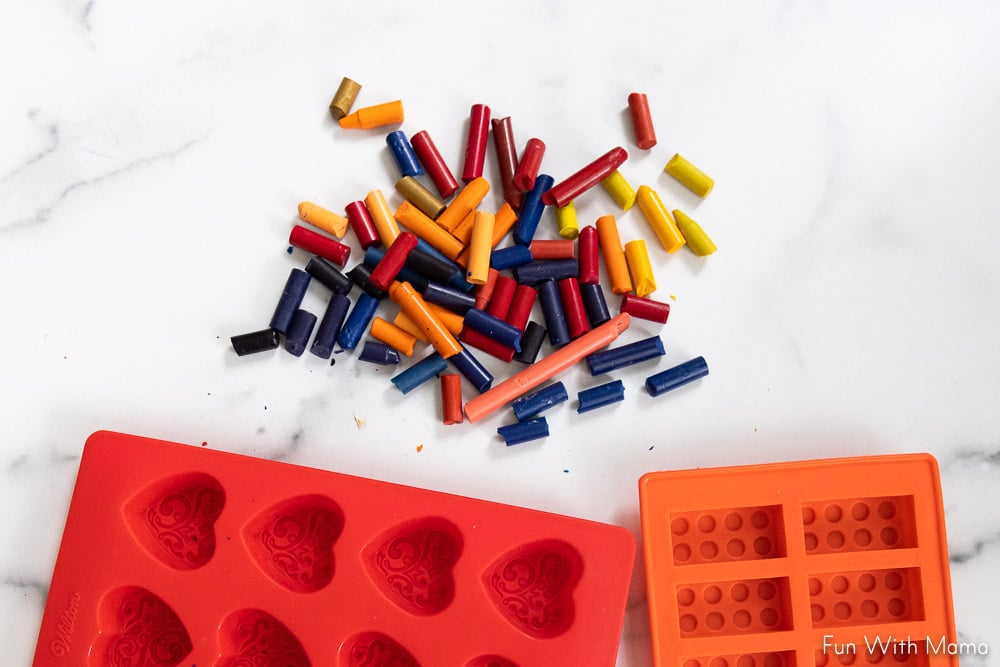 Step 3: Break crayon pieces if you are using new crayons or use broken crayons to be able to skip this step.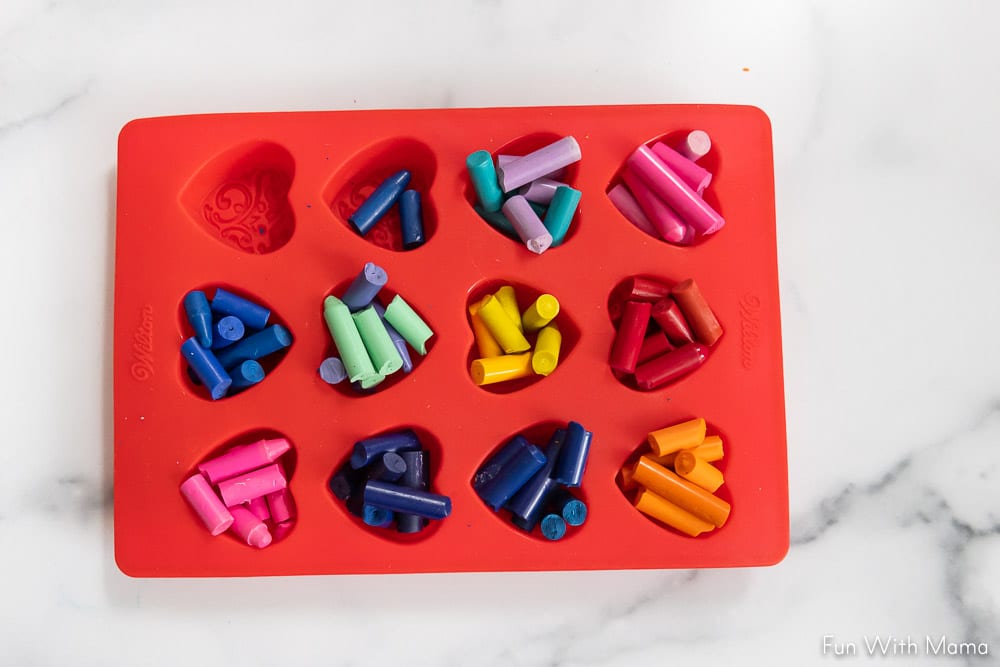 Step 4: Fill your crayons into the silicone mold. This is actually where the artistic part comes in. You can choose to add one color to each mold, multiple colors, shavings of a specific color here and there, there are a lot of possibilities. There are also a lot of possibilities when choosing which silicone mold you plan to use.
Step 5: Place them in the oven for about 10 minutes (or when you see that the crayons have turned into a liquid form.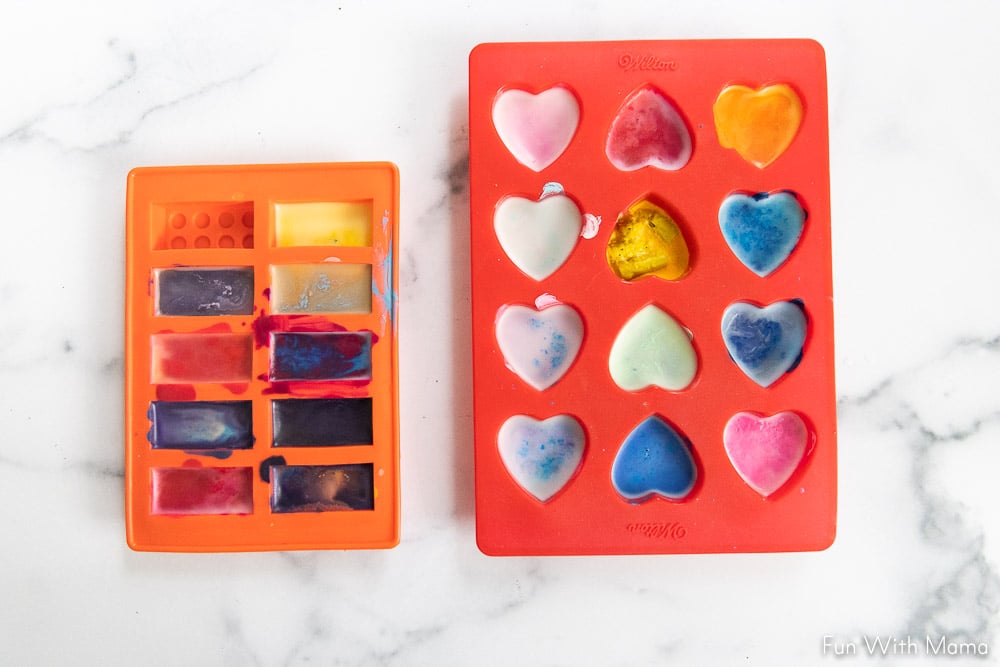 Step 6: Take the molds out of the oven carefully using an oven mitt. Let them dry and harden.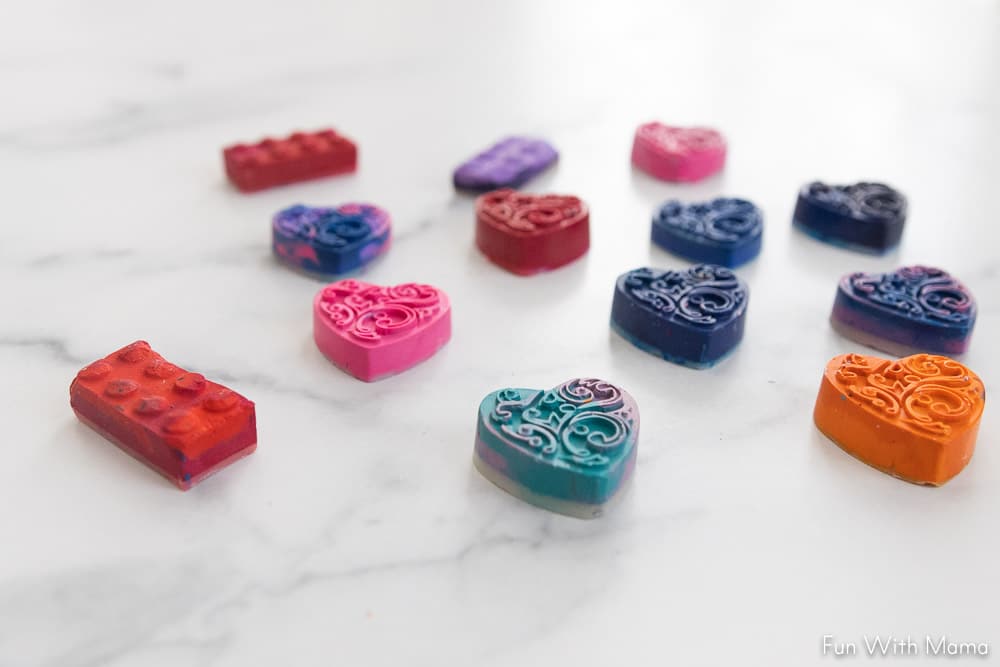 Aren't these melted crayons gorgeous?
How to melt crayons in the microwave
Step 1: Peel the paper crayon wrappings from each crayon.
Step 2: Break crayons and place the crayons in a paper cup.
Step 3: Put the mold into the microwave for about 4 minutes. How long it takes depends on your microwave. It could take longer or shorter than 4 minutes. You want to make sure your crayon is in a liquid form before you take it out.
Step 4: Pour the melted liquid into your silicone molds.
Step 5: Once they are hard and dry you can pop them out.
To make them cool off faster you can pop them into the freezer for 30 minutes.
How to remove the wrapper from crayons
You can peel them off dry with your fingers.
Add them to a bowl of water and let the water soften the paper so it's easier to peel.
Use a knife to cut off the paper.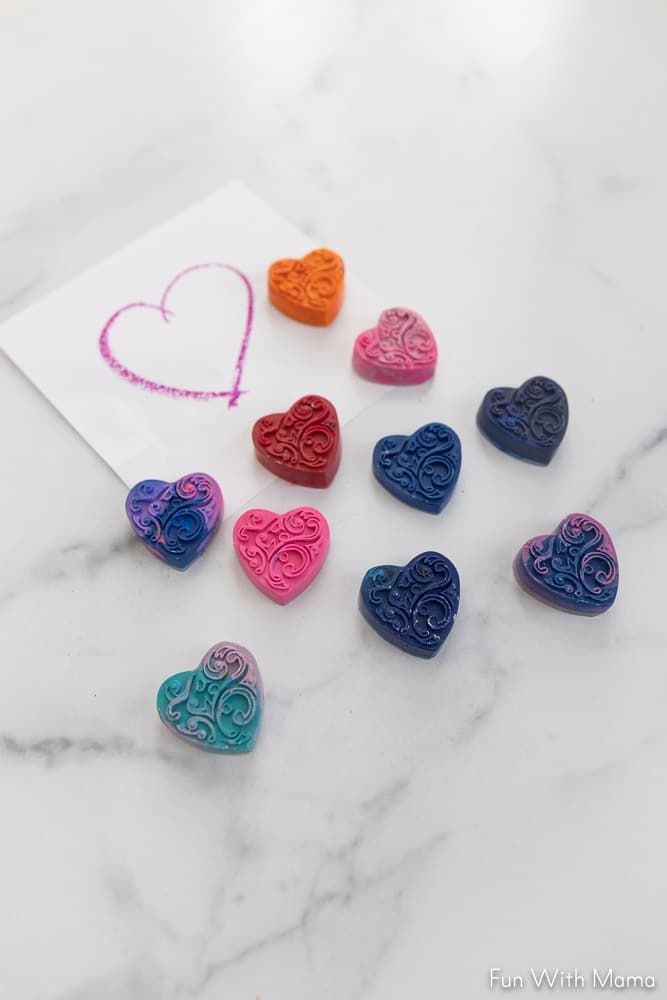 Aren't these melted crayons gorgeous? Aren't these melted crayons gorgeous? Coloring with crayons has so many benefits for children so I'm always looking for fun ways to encourage coloring time!
Crayon FAQ
What temperature does silicone melt?
Most silicone molds are heat resistant up to about 440 degrees Fahrenheit, but make sure to check your pan or mold packaging to get the exact safety temperature of your specific mold.
What are crayons made of?
Crayons are made from paraffin wax and color pigments.

What to do with old crayons?
Recycle and repurpose! Melt old crayons into new crayons.
What happens when melted crayons cool down?
The melted crayons turn into a hard substance that holds their shape.
Are crayon molds and candy molds the same thing?
Yes. I wouldn't use an ice mold because the crayon wax gets stuck on the mold when using high heat. It doesn't get stuck on chocolate molds.
How crayons are made
You can watch this video below to show your children how crayons are made. It's an interesting lesson and a great one to watch before you start melting crayons or while you wait for them to melt in the oven.
How is the crayon melting process a science activity?
When you are melting crayons you are teaching children about reversible change.
What is a reversible change?
A reversible change is a chemical change that can be undone or reversed. A great example of this is melting an ice cube back into water or melting chocolate.
On the opposite side of the spectrum, we have irreversible change. This is when something cannot be reversed back to what it was.
Crayon Silicone Molds
One thing that's great about silicone crayon molds is that you can create crayons according to a variety of themes. You can make unicorn crayons, dinosaur crayons, etc. The list is endless and it would make for a wonderful addition to a child's birthday party.
Want to create jumbo crayons? Then you can use a jumbo mold.
I've included my favorite crayon silicone molds here as well as some suggestions on some kids activity kits that I think children will love!
Crayon Activity Kits
This blog post may contain affiliate links. This means that if you purchase from one of these links, at no cost to you, this site may earn a small commission. You can
Crayon Melter
This Crayon Melter kit looks like so much fun, especially for older children! I just purchased a box for my kids.
Crayola Crayon Factory
This Crayola crayon factory includes everything you need to melt and create crayons. This handy dandy tool also has expansion packs for even more fun.
Crayola Marker Maker
Sure, it's not a crayon maker, but if you are worried about having to be careful of the heat that melting crayons requires, then try the marker maker.