This fingerpaint butterfly craft activity and butterfly printable is sure to get your toddler laughing and exploring their senses. There are so many benefits of finger painting for baby and a toddler that I hope you never miss an opportunity to do it. Butterfly crafts for preschoolers are always so vibrant and is a great way to work on the caterpillar to butterfly life cycle. Add this to your printable letter crafts homeschool activity.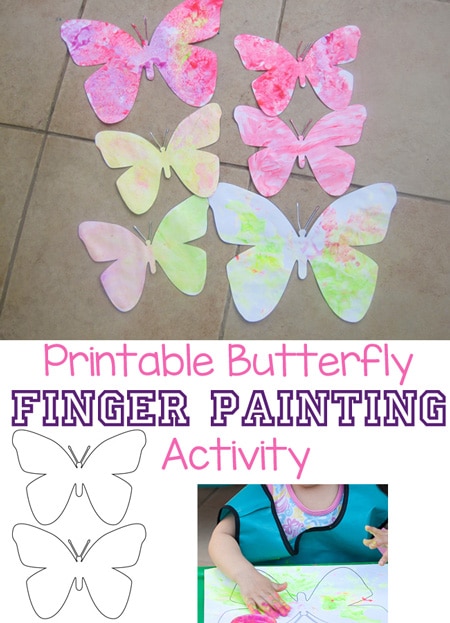 The Fingerpaint Butterfly Craft and Butterfly Printable
We read the book The Very Hungry Caterpillar today and then did this activity to tie in with the book. It is no secret that we are an art loving family. There are many wonderful reasons why finger painting is so beneficial for kids (a must read!)
We have tried many finger painting activities that range from finger print painting, hand painting and even the messier shaving cream painting (SO MUCH FUN!)
We are also constantly doing fun finger painting activities which you can find on my instagram page.
To tie into the The Very Hungry Caterpillar we did a themed art activity. In the book the caterpillar turns into a beautiful butterfly.
Kids Butterfly Craft Materials Required:
Affiliate links may be used. Please see my disclosure policy for more information.
I printed out some butterflies then I placed some finger paints on the table, painting sponges, and some scrunched up paper. (I found the idea for using scrunched up paper at Teach Preschool.)
For finger paints, I use these from Discount School Supply but if you need a smaller quantity and prefer to order from Amazon these are pretty good too.
If you would prefer to try your hand at making them at home here is a wonderful homemade finger paint recipe.
Butterfly Printable
Pictures of messy hands are always my favorites! I especially love the happy smiles and giggles behind the colorful hands.
When the paintings were dry I cut the butterflies out and hung them up in the house.
We love butterfly activities here. If you enjoy this try out the Butterfly Yarn Activity to give your preschooler some cutting practice.
Butterfly Craft Template
Would you like to do this activity? Click the link below the image of the butterfly's to print or download this activity. This printable was made for A4 paper but if you have paper that is smaller then you can just scale down the percentage during printing.
GET THE FREE BUTTERFLY FINGER PAINTING TEMPLATES HERE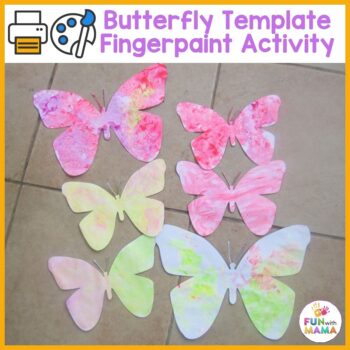 Already a subscriber? No problem. Just enter your details above so we can send this printable directly to your inbox.
Caterpillar to Butterfly Life Cycle Craft
Check out this caterpillar to butterfly life cycle video. It was such an amazing experience to watch these caterpillars grow from a caterpillar to chrysalis pupa to a butterfly.
If you want to see more creative ideas follow me on Pinterest.

Butterfly activities are amongst my favorite preschool activities and toddlers love them too!
More Kids Butterfly Crafts and Activities