This train alphabet matching activity is the next way you can help your little learner practice and strengthen alphabet skills. We know that learning the alphabet and beginning sounds is crucial for preschoolers. I am a firm believer that children learn better when using hands-on activities that feel like play to them. This alphabet-matching game is just that…FUN!
Train Themed Alphabet Matching Activity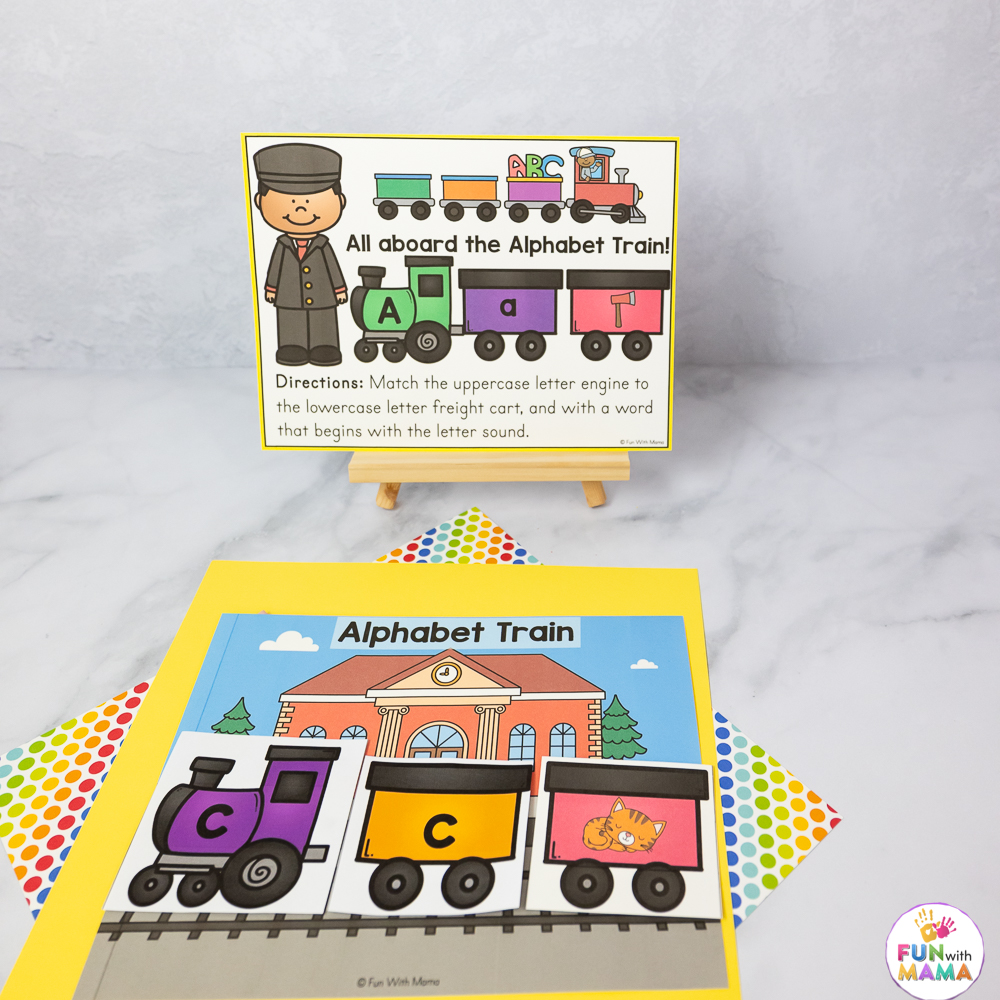 Kids will enjoy connecting the parts of a train to match uppercase letters, lowercase letters and beginning sounds through recognizable pictures. Children will also be strengthening fine motor skills while they complete this fun alphabet activity. This literacy activity is perfect for preschoolers and kindergarteners.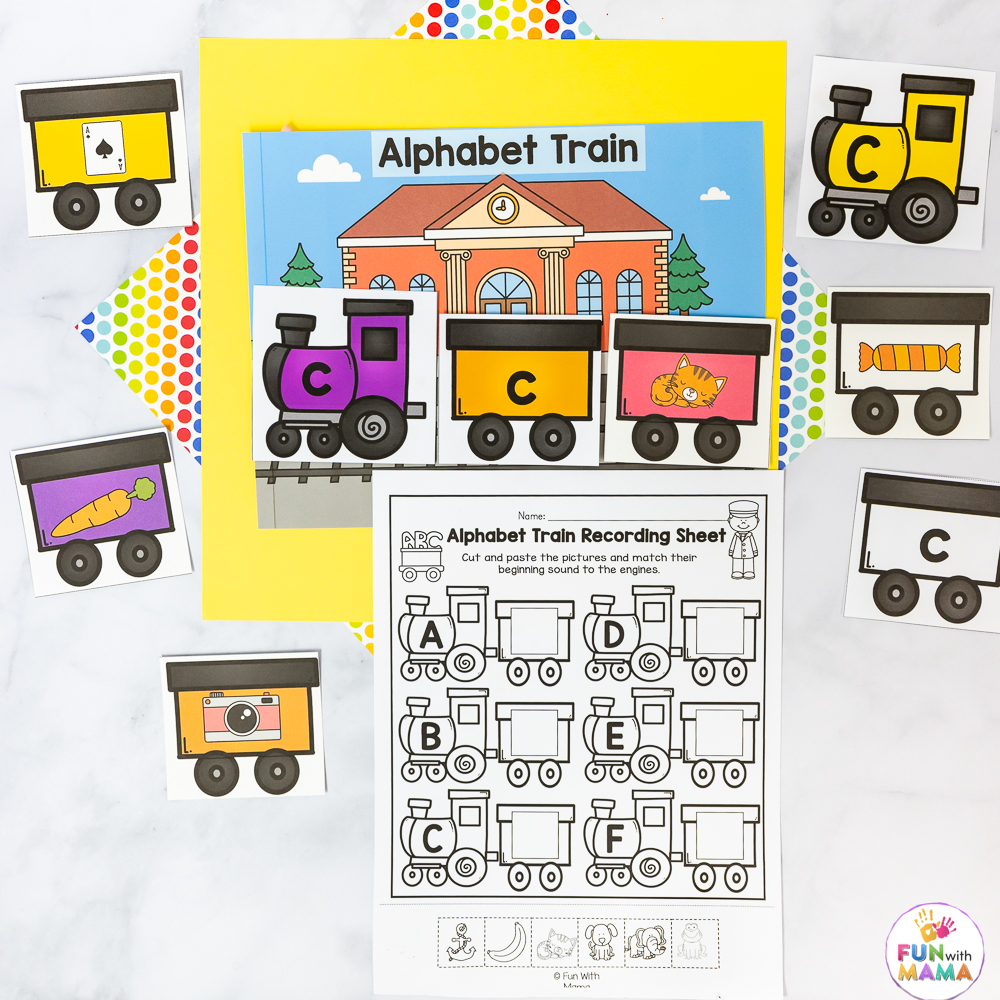 Make sure to check out our favorite ABC Books For Kids to also help your little learners master the alphabet.
This train activity focuses on letter recognition, but upper and lowercase, as well as matching beginning sounds, through recognizable pictures, to the correct letter. This preschool literacy activity is full of versatility to ensure that your child is learning at their own pace. You can apply differentiating by only having children match upper and lowercase or extend as far as matching the correct pictures to the letter, for beginning sound practice.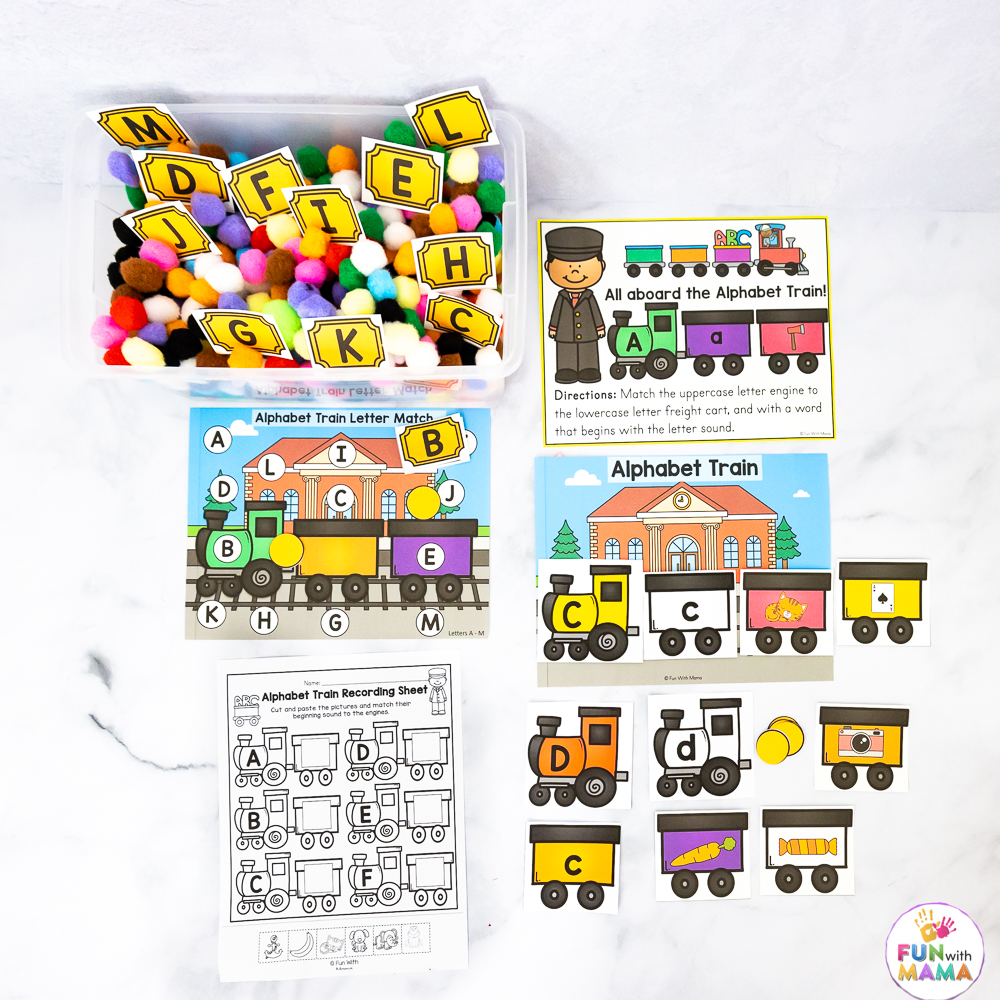 While children pick up the various pieces, and set them down in place, they are also strengthening fine motor skills that are necessary for skills such as zipping a zipper and tying their shoes. Not to mention holding a pencil properly.
If you have a little one who loves trains, check out our Train Printable Pack.
To Prep For This Train Alphabet Activity
This alphabet-matching activity includes conductor cars for each uppercase letter of the alphabet as well as additional conductor cars for lowercase letters. Next are the box cars. There are 6 for each letter and contain recognizable pictures of objects that start with each letter. For instance, for A, the box cars include pictures of an angel, anchor, axe, apple, alien and astronaut.
Start prepping by printing the activity on to cardstock Next, cut out each piece of the train set. To preserve the life of this activity, I would suggest laminating each piece. When it is all ready, lay out the activity for your child.
You can cut the train pieces right at the edge of the image or use the provided rectangles to make this easier to prepare.
Depending on your little learner, you can start with just a small section of this activity. As I mentioned above, you can do simply alphabet matching, between upper and lowercase letters. Additionally, you could do the whole letter matching activity but for only 5, for example, letters.
How to make it a sensory activity
Add the tickets or pieces to a sensory bin. Then use the letter match mats page. When a child draws a letter ticket, cover the same letter on their page.
When To Use This Alphabet Activity
This alphabet matching game can be used as a literacy station, morning work or for early finishers. Additionally, this would be fabulous for small groups or partner work, as well as independent. Also, use this activity when your little learners need extra fine motor strengthening.
I included instructions for centers so that children can look at the example to be reminded of what they should be doing.
Children will love learning with this fun train themed activity that is full of bright colors and fun pictures.
What is included in the printable activity pack?


WHERE TO GET THE ACTIVITY
GET THE ALPHABET TRAIN MATCHING ACTIVITY HERE
All aboard the alphabet train! This fun Alphabet Train Matching Activity Pack includes recording worksheets for students to further demonstrate their understanding. This engaging pack includes train engines and freight cars featuring uppercase and lowercase letters and pictures perfect for sorting according to their beginning sounds